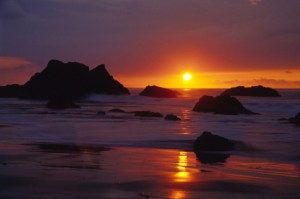 People frequently ask me for a 'One-size-fits-all' solution to make money using Social Media. I tell them that it really depends on THEIR goals and I sometimes get the feeling that they think I am stalling. But it is true, one person's goal might be to get more customers to walk into their physical shop whereas another my be looking for speaking engagements. Trust me when I say that the 'right' sites for the first are not necessarily the same as those for the second.
Next, they look for one single, foolproof strategy or tactic and again, we need to fully define their needs, assess their current status on social media and determine their time and monetary budget before we can come up with a strategy and tactics that will help them achieve that goal. Here is a brief analogy to help clarify these concepts.
Say you live in Utah. You may have always wanted to watch the sun set over the ocean. For this example, that will be your Goal.
GOAL: To watch the sun set over the ocean
STRATEGY: Go to a beach in California
Our strategy will be to get you to a beach in California where you will be able to watch the sun set over the ocean. Alternatives might include going to Fiji or Hawaii, which would also help you achieve your goal, but they would have taken more time and cost much more so we chose the California option.
TACTICS: Fly to California, rent a hotel room at the beach, make plans to go for a walk on the beach at sunset.


We will purchase a ticket to fly, on a plane, from Utah to California. Alternatives include driving, bicycling and walking to California but we chose flying as it was the most time and cost effective option. Had you already lived in California and were an avid bicycler, we might have chosen bicycling as a better fit.
Once there, you will rent a room at a hotel on the beach and make plans to go for a walk, at sunset, on the beach. Note that if you already lived in California, down the block from the beach, renting a room in a hotel would not be necessary. And flying would be absurd.
Going back to the original premise of a one-size-fits-all answer, if your goal were to climb the highest Himalayan mountains, obviously the California strategy would not be appropriate though flying to your destination might still be the right fit.
Taking the time to clarify your goals and determine the right strategy and tactics to reach those goals really IS the singular, foolproof way to make money, or any progress on any social media platform. Contact me today to craft an effective 'One-size-fits- YOU' strategy.
A goal oriented and energetic entrepreneur, LisaMarie Dias helps business owners create effective online marketing plans and materials. She specializes in e-newsletter start-up with Constant Contact and introductions to Social Media.
Through online webinars, live presentations and one-on-one consultations, she teaches professionals how to use e-newsletters and social media to grow their businesses, helping them define their goals and identify the online marketing tools and social media sites that will achieve those goals most cost and time-effectively.
Originally trained and licensed as an architect, her technical knowledge and design skills inform her process and approach. LisaMarie enjoys teaching and has trained hundreds of professionals to effectively use social media tools and platforms. She has successfully implemented effective online marketing campaigns for a wide variety of businesses ranging from medical practices to artwork, financial advisors and shop owners to consultants of all types. See her
website
and
LinkedIn
profiles for dozens of rave reviews and recommendations. Visit her Facebook business page at
www.facebook.com/LisaMarieDiasDesigns
for daily tips, hints and tutorials or contact her at
973.275.9497
or
LMD@LisaMarieDiasDesigns.com
to learn how she can help YOU!
The opinions expressed herein are the writer's alone, and do not reflect the opinions of TAPinto.net or anyone who works for TAPinto.net. TAPinto.net is not responsible for the accuracy of any of the information supplied by the writer.