Hiding under your winter coat is only going to work for another few weeks. When the warm weather comes and it's time to bare arms, what are you going to do?
February is heart healthy month, Valentines Day and a perfect opportunity to begin loving your body. Loving your body by feeding it well will produce for you the body that you crave. When you are loving your body, you will put the "garbage" in the trash instead of eating it. Yes, I am referring to the food you eat as garbage, any of that refined processed stuff that comes in a box.
The better you feel about and in your body, the more self esteem you have and the more likely you are to put your best self out there in whatever it is you are up to in this world. When you feel rockin' hot, sexy and gorgeous, everyone believes you. Even you believe you. You clothes fit better, you shine brighter and you feel amazing.
Here are 5 top "romantically naked" foods that when you eat them will promote health and support you in building the healthiest, sexiest version of yourself. An immediate increase in your confidence and self esteem with ensue. These 5 delicious foods not only have a nutritional punch but a fun symbolic reference to love, intimacy and pleasure. Put these 5 romantic foods together and you've got the perfect recipe to enjoy during the heart loving month of February.
ASPARAGUS
It's been said that asparagus stirs up lust in men and women.
This vegetable is a great source of potassium, fiber, vitamin B6, vitamins A and C, and thiamin and folic acid. The latter is said to boost histamine production necessary for the ability to reach orgasm in both sexes. The shape of the asparagus spear can be somewhat suggestive as well.
ALMONDS


Long ago, the almond was regarded as fertility symbol.
It was even said that Samson wooed Delilah with these nuts.
Almonds provide vitamin E, magnesium and fiber and improve your general well being. The better you feel in your body, the better you perform in every area of your life.
AVOCADO
Avocados are voluptuous and feminine in shape and size. Back in the day, the Aztec's thought that the fruit resembled the male testicles as it hung on trees in pairs. The avocado is a really healthy fruit filled with necessary good fat and quite helpful for enhancing hormones.
BANANAS
According to some myths, Adam (as in Adam and Eve) covered himself in banana leaves. Bananas are loaded with potassium, magnesium and B vitamins. Another great "naked" food that will help you build your healthiest, sexiest body with its nutritious value.
FIGS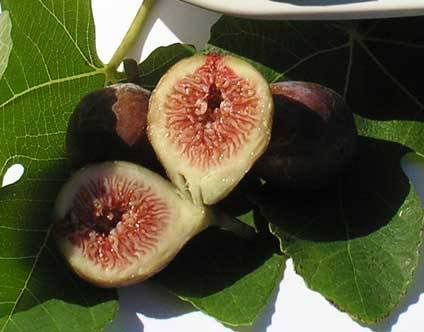 Figs were Cleopatra's favorite food and they are very sexy looking in appearance and texture. Cut one open and you 'll see why they are synonymous for sexual organs.
Here's a simple recipe that is yummy delish, satisfying, body enhancing, weight loss promoting, and energy booster.
"Naked" Salad Dressing:
2 figs
1 banana
2 tbsp balsamic vinegar
1 tbsp almond butter
Mix all ingredients until creamy in high powered blender (or vitamix). YUM.
For the base of your salad, simply chop some lettuce leaves in a bowl. Slice up your asparagus spears and your avocado onto the lettuce.
"Remember that if you eat processed, refined food, it will show up on your body. When you eat pure and "naked" foods like the ones listed above, the body of your dreams will show up and you may just fall in love with your "naked" self."

Rosie Battista, Healthy Body "Builder", Trainer & Food Maven, committed to helping women entrepreneurs build healthier, sexier bodies without starving or spending hours in the gym. If you're really curious, she's got the creds to back it up with certifications from Columbia, Cornell, ACE and more, but what really matters is the list of client testimonials and transformations! Ask to see those and she'll show you the proof.