KEARNY – It's a bad day for Gen. Philip Kearny. Sure, he was killed in action during the Civil War, but today's headlines would certainly prove upsetting. His statue has been proudly displayed in the U.S. Capitol for 132 years and now some New Jersey lawmakers think that's plenty of time to honor a major general who fought in four wars and died on the battlefield in the Battle of Chantilly. The town of Kearny still honors him, but the State Senate wants his statute replaced with one of Alice Paul, a Mount Laurel advocate for women's suffrage. NJ.com reports that Kearny fans and folk are rightfully ticked, but modern-day suffragists are once again demanding change.
OLD BRIDGE – It's harder than ever to find people so deeply devoted to their jobs that they stick with it for more than a few years. That makes Barbara York's 53 years as a school crossing guard a real rarity and worthy of note. Now 82, York – one of New Jersey's longest-serving crossing guards – is reluctantly hanging up her orange vest and stop sign. She tells the Home News Tribune she kept working simply because she "likes children … enjoyed them, enjoyed my job (and) hate to leave." Hired in 1967, York literally followed in her mother's footsteps. Her mom was an Old Bridge crossing guard for 33 years. York says her duties gave her "a good reason to get up at 6 o'clock every morning," but there's one thing she won't miss: Weather, like the dreariness we have this morning.
ATLANTIC CITY – The car was a real piece of junk; it's what was stored in the gas tank that really got the cops all aflutter, NJ.com reports. A 34-year-old California man admitted he hid 30 pounds of crystal methamphetamine – worth $600,000 or so – in the gas tank of a salvaged vehicle being shipped from California to Atlantic City. While he was in a talkative mood, he also told authorities that he made a deal with a confidential informant to ship five pounds of fentanyl – worth more than $2 million – in the gas tank of another junker, to be named later. Cops seized both the crystal meth and the fentanyl, but didn't seem to have much interest in the old car.
BRIEFING BREATHER: Humphrey Bogart never said "Play it again, Sam" in Casablanca. (The actual quote? "Play it, Sam.")
TRENTON – Dustups between Gov. Phil Murphy and Senate President Steve Sweeney are starting to fall into the dog-bites-man category of non-news. The latest tiff is over corporate tax incentives, those often-lucrative deals the state dangles in front of companies to induce them to move to the Garden State or stick around, NJSpotlight reports. Murphy wants an annual cap on the total that can be doled out. Sweeney wants an annual cap, too – just on individual subsidies, but no upper limit on the whole ball of wax. They're both right. Without caps, state taxpayers get left holding a very large bag. Here's an idea for our battling leaders: Establish both individual and annual caps. Taxpayers win, and you can move on to the next disagreement.
CLINTON – This might be hard to swallow, but if you can devour a 105-pound burger in under an hour, you could win $2,000. That's a standing challenge to hungry patrons at Clinton Station Diner on Bank Street, home to some of America's biggest burgers. To be fair, OnlyInYourState.com says you don't have to eat it alone. Up to nine friends can help polish off this diner's biggest burger, the "8th Wonder." If it proves too much of a mouthful, there's also a 50-pound "Mount Olympus" burger; a 15-pound "Zeus," or (for wimpy eaters) a three-pound "Atlas" burger. Of course, there's less prize money if you need help polishing off those "smaller" burgers. Loser.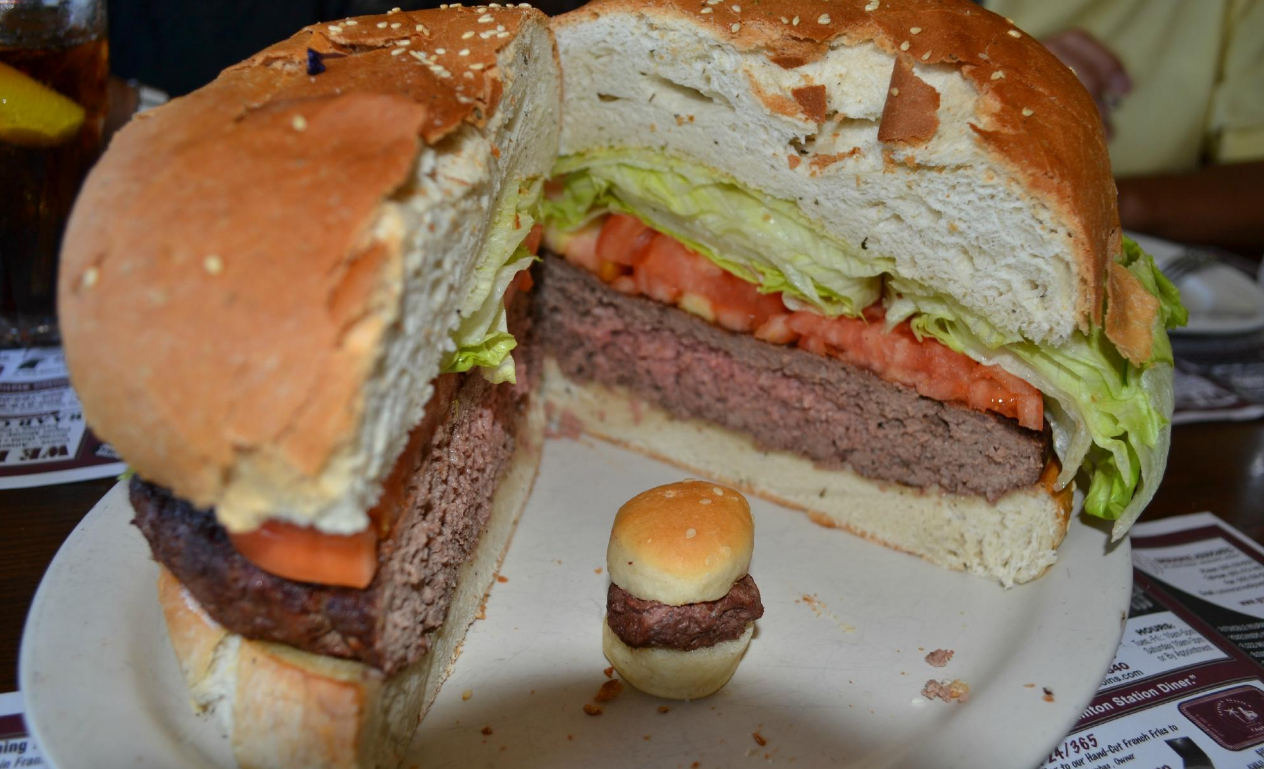 IN OTHER IMPORTANT NEWS
LONDON – Crunch! Slurp! Gulp! The first-ever Batman-themed restaurant will be serving up heaping portions of crime-busting, if not gut-busting, fun starting this spring. Call up Robin on the Batphone, strap on your Utility Belt and head over to the 18,000-square-foot venue in the heart of London where guests will enter by descending into an area designed to resemble the Batcave. From there, three bars and five different dining environments await. One of them, Old Gotham City, is presumably a speakeasy-like hideout for the villainous likes of The Riddler, Catwoman and Mr. Freeze. The never-ending search for truth, justice and loaded potato skins, however, will not be cheap – assuming you don't have Bruce Wayne's stock portfolio. The average starting price for dinner is $58 per person. Or, if you're dining with The Penguin, you could just put it on his bill.
THIS DAY IN HISTORY
It was this day in 1937 that the Boston Redskins move to Washington D.C., prompting local Native Americans to wonder why the heck they would be a mascot for some strange white man's game.
WORD OF THE DAY
Gustatory – [GUSS-tə-tor-ee] – adjective
Definition: Relating to or associated with eating or the sense of taste
Example: I'm giving my valentine candy, chocolate and other gustatory delights.
WIT OF THE DAY
"The task of dealing with global warming is urgent and important."
― Justice Brett Kavanaugh
TODAY'S TRUMPISM
"Windmills are the greatest threat in the US to both bald and golden eagles. Media claims fictional 'global warming' is worse."
- Donald J. Trump
WEATHER IN A WORD: Dreary
THE NEW 60
A Jaffe Briefing Exclusive
by Andy Landorf & John Colquhoun