STATEWIDE - Well, this changes everything. Apparently, we now have the go-ahead to give the middle finger to cops who routinely pull us over. A federal appeals court has ruled a Michigan woman's constitutional rights were violated when she gave the Jersey salute to a cop in 2017. At first, the officer gave her a ticket for a lesser offense. But then she gave him the finger, prompting him to take the book back out and hit her with a more serious speeding offense. She sued, of course, arguing free speech. The court, in a 3-0 decision, ruled the cop should have known better, even though no one ever "wins" by ticking off a cop.
MOUNT HOLLY - No Alfred Hitchcock, but "the birds" are back and this town can't get them to buzz off. Vultures, hordes of them, return each winter for the past decade. Homeowners tell Philly.com that these menacing-looking scavengers, sometimes 200 or more at a time, perch on rooftops or trees for hours. One resident, fed up with their stinky droppings, says "it looks like `The Birds' ... pretty scary and disgusting." It's tough to shoo away these vultures, so local officials recently hosted a public workshop to convince everyone that this is a great thing. These birds of prey are actually "nature's clean-up crew that feed on dead carcasses." How delightful.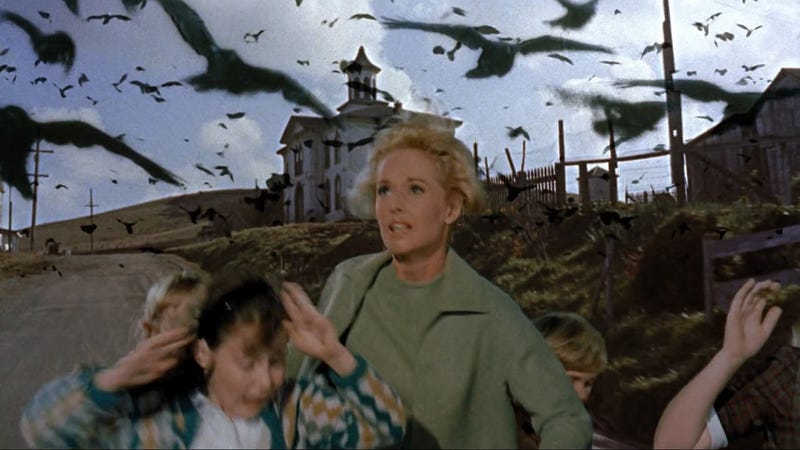 TRENTON - Some state lawmakers envision "safe-injection sites" where intravenous drug use would be allowed and supervised. They're talking about four sites and a year-long tryout in the hope of preventing overdoses. These sites - we are learning - are common in many countries. But there are none in the U.S. NJ Spotlight reports that the bill sponsor, Assemblywoman Valerie Vainieri Huttle, was motivated by the "staggering" toll of the opioid epidemic. Time to get creative and push back. And, heck, why not have the Sackler family pay for this pilot? Read more here on NJSpotlight.
EDISON - You can experience pretty much everything in this town, chock full of retail and restaurants. And, pretty soon, you can also skydive. (Take that, Meadowlands mall!) Central Jersey's newest entertainment venue is taking shape along Route 1 south. Coming to the 98-acre Edison Towne Square campus is iFLY, an indoor skydiving center that somehow uses wind tunnels to simulate the thrill of leaping from a plane. Mayor Tom Lankey tells The Sentinel the new attraction - and perhaps even another super-secret entertainment venture - will join Topgolf, a new L.A. Fitness, Zinburger, Starbucks, Sam's Club and, ultimately, a new state-of-the-art municipal Community Center that's in the works.
UNION TOWNSHIP - A $600 iPhone X, a $500 designer handbag and nice jewelry prompted cops to nab a panhandler begging for money on Vauxhall Road near Hilton Avenue. Police tell NJ.com that the Queens, NY woman they found walking in and out of traffic, with a sign pleading for cash to buy her baby diapers, was really a very talented scam artist with some high-end merch. She allegedly admitted being one of several female panhandlers dropped off in various New Jersey towns this week. Police say: "It's nice to be charitable, but it's not a good idea to donate to someone on the side of the road."
LINWOOD - This small city's big new celebrity turns 62 tomorrow. For his birthday, Chris Ferry has gotten nearly 18,000 phone calls (and counting) from well-wishers. So many, Ferry tells CBS News, he had to get a second phone number, and leave a "thank you" message on his first. Why? His sons, Chris Jr. and Mike, plastered their Dad's face and number on a $2,000 billboard along the Black Horse Pike outside Atlantic City, urging folks call him for his birthday. Billboard photos went viral on social media, leading to calls from across the country and around the globe. Ferry may wish for it to end when he blows out his candles. That's unlikely; that damn billboard stays up until April 6.


IN OTHER IMPORTANT NEWS
STATEWIDE - We may have finally discovered why your wife is so fed up.A new study shows that women who work long hours are more depressed than men doing the same. British researchers had the distinct displeasure of studying about 20,000 over-worked, cranky people who just wanted to get the heck home. Women who worked more than 55 hours a week were 7.3 percent more ticked off than men who worked the same hours. These women felt stress, suffered from insomnia and felt worthless. (So, no, dear, I do not want to rub your back!) Researchers from University College London surmise these overwhelmed women also get stuck doing the lion's share of the housework on top of their hectic work life. So, to suggest a follow-up study, assess these women's depression levels after their husbands finally learn that a dirty fork goes in a dishwasher. Assume a stark difference.
THIS DAY IN HISTORY
It was this day in 2017 that the courts threw out the well-known lawsuit from a former employee of a Trenton-based pork roll company. She claimed the company fired her 400-pound husband for chronically farting at work. She argued her husband had health issues, prompting all that workplace gas and extreme diarrhea. She said employers had enough, quoting them saying, "We have to do something about Rich," and "We cannot run an office and have visitors with this odor in the office." The judge ruled such comments didn't rise to the level of an "abusive work environment." Rich is probably a great guy; it's a shame that co-workers won't miss him.
WORD OF THE DAY
Luciferous - [loo-SIH-fə-rəs] - adjective
Definition: Bringing enlightenment
Example: Will the President's tax returns one day manifest luciferous properties on American voters?
WIT OF THE DAY
"It is a joy to be hidden but disaster not to be found."

- Donald Winnicott
WEATHER IN A WORD
Unsettled
THE NEW 60
A Jaffe Briefing Exclusive
by Andy Landorf & John Colquhoun