EAST BRUNSWICK – First groundhogs in Milltown. Now salamanders in East Brunswick. Local officials closed off Beekman Road last night so local salamanders can make their annual migratory trek to the vernal pools nearby. Over the next few months, township officials will be closing Beekman Road from 6 pm to 6 am for this annual migration. The road closures are the decision of the East Brunswick Environmental Commission, when members believe the weather is pitch-perfect for the migration of local amphibians. TAPInto East Brunswick says the road closures are the perfect time for local salamander lovers to come on by and – with breathless anticipation – watch the salamanders cross the road. Good seats, still available.
TRENTON – Election reforms or "political chicanery?" That's the question the City Council is grappling with after Councilwoman Robin Vaughn suggested switching this city's non-partisan elections from May to November. She also wants to end "runoff elections" when no candidate gets a 50% majority of the vote. Vaughn says these so-called "reforms" would increase voter participation and save the city nearly $200,000 on May elections. In fact, only 9,000 of Trenton's 39,700 registered voters turned out in the city's last election, pathetic but not uncommon. Councilman Jerell Blakeley is slamming her ideas as "blatant political chicanery," telling The Trentonian that the proposal is solely designed to better Vaughn's chances of challenging Mayor Reed Gusciora in 2022. The mayor agrees, but he was less critical, saying simply: "If Robin wants to run, God bless her."
PATERSON – Most people with workaday jobs just can't wrap their heads around big lump-sum payments that top cops often reap when they retire. Most people will never know the thrill of getting handed $326,281 as they head out the door. But, that's what Police Chief Troy Oswald gets after retiring Feb. 1. The Paterson Press says this windfall covers his unused sick and vacation days. The so-called "separation pay" also includes money for 720 hours of "muster/debriefing time," which are hours supposedly spent "getting ready" to start and end his duty shifts. Oswald's predecessor walked away with $210,000, and the chief before him got $185,000. No one says Oswald, 51, doesn't deserve the cash for his 30-plus years of service. But Councilman William McKoy – a longtime critic of letting cops accumulate time toward golden parachutes – says the city simply has no choice under its lucrative police contracts. Perhaps it's time to give those contracts another look.
BRIEFING BREATHER: "Typewriter" is the longest word that can be made using the keys on only one row of the keyboard. (Go ahead, try it. Top row.)
GALLOWAY – We all know college isn't cheap, but at least students from one school may reap some free maple syrup. Stockton University has received a federal grant to promote "maple sugaring" throughout South Jersey, NJ 1015 reports. That means Stockton students and staff are tasked with educating the locals that their forested land could turn into some extra green, in the form of mini maple syrup businesses. Residents can also get glorious tax breaks for preserving their land for the purpose of making syrup. Homeowners just need five acres of land with some red maple trees. Potential syrup entrepreneurs would be encouraged to contact Stockton, so staff and students can come out and assess the property for syrup potential. The grant even includes taps, tubes and buckets. Waffles not included.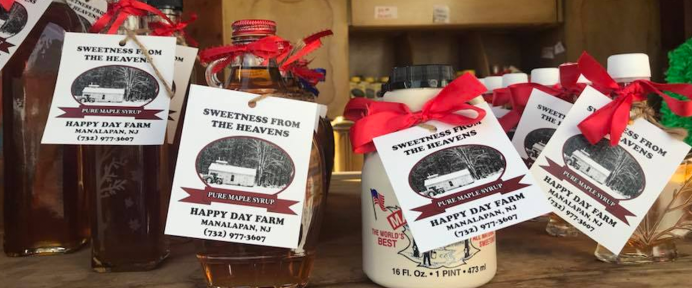 STATEWIDE – LED lightbulbs are becoming serious business in New Jersey, where a chorus of local officials, utility executives and industry folks sang from the same hymnal Thursday, urging the state to encourage the conversion of municipal lighting to efficient LED bulbs. Those LED bulbs are more expensive, but reduce operation and maintenance costs, as well as cut down on greenhouse gas emissions. Equally apparent to some of the converts is the fact that conversion isn't happening fast enough. Oakland Councilman John Biale said his Bergen County town's utility, Rockland Electric, is replacing 2% of its traditional street lighting with LED bulbs every year. At that rate, it will take 50 years to replace all the town's old lights. Read the full story on NJ Spotlight and become illuminated.
MONMOUTH BEACH – Sunday marks a noteworthy centennial: the right of women to vote. It is certainly worth celebrating the Feb. 9, 1920 ratification of the 19thAmendment, in any form. In Monmouth Beach, it will be a simple gesture: lighting Borough Hall in purple – one of the colors of the suffrage movement. New Jersey was the 29th of the original 36 states to ratify the 19th Amendment. Hopefully, this celebration will serve as yet another reminder that every vote counts, no matter your gender, race, education, etc. etc.
IN OTHER IMPORTANT NEWS
BROOKLYN – At first, we were going to write about the dog from Canandaigua, N.Y., who is able to carry six tennis balls in his mouth at one time. But you deserve better. So, we are going to write about the guy from Brooklyn who has managed to amass more than 1,500 pizza boxes in his tiny apartment from pizzerias as far away as Antarctica and the Faroe Islands. Sure, this guys lives in a firetrap just waiting for a flicked cigarette, and, sure, he is the dictionary definition of a hoarder. And let's assume he is also hopelessly single. But he has an interesting story, collecting his very first pizza box at age 11 and developing his very own cleaning process to rid the boxes of grease. Perhaps even the dog from Canandaigua has visited, but one would never find him, or his tennis balls, among the piles.
THIS DAY IN HISTORY
It was this day in 1882 that the last bareknuckle fight for the heavyweight boxing championship took place, in Mississippi City. Glad things have gotten civilized.
WORD OF THE DAY
Fissile – [FISS-əl] – adjective
Definition: Capable of or prone to being split or divided in the direction of the grain
Example: Our nation, once again, is being revealed as fissile, fragile and ferociously divided.
WIT OF THE DAY
"I think if you look at people, whether in business or government, who haven't had any moral compass, who've just changed to say whatever they thought the popular thing was, in the end they're losers."
― Michael Bloomberg
TODAY'S TRUMPISM
"Little Michael will fail. He'll spend a lot of money. He's got some really big issues. He's got some personal problems and he's got a lot of other problems."
- Donald J. Trump
WEATHER IN A WORD: Scattered
THE NEW 60
A Jaffe Briefing Exclusive
by Andy Landorf & John Colquhoun