CAMDEN - If you enjoy watching Democrats eat Democrats, then you absolutely love Jersey's political scene. The latest has South Jersey powerbroker George Norcross III attacking Gov. Phil Murphy. Norcross says the governor "thinks he's the King of England and Mrs. thinks she's the Queen of England, and they don't have to answer to anybody." Norcross says the governor is an incompetent liar with no strategy. Ouch. Meanwhile, the Camden Democrats are piling on the Democratic governor, calling him "phony Phil," while actually praising the former governor, an actual, living, breathing Republican. Why the war of words? Murphy is poking around the state's $11 billion economic-development tax incentive programs, some of which famously helped to rebuild Camden, via Norcross-connected companies. Norcross tells NJ.com that we "busted our asses to do everything we could to get companies to come to America's most dangerous city and its poorest city. What the hell is wrong with that?"
WAYNE - A battle over ping-pong? That's what is happening in Wayne, as NJ.com tells the story of the Northeast Table Tennis Club, trying to build a training facility for elite, Olympic-bound table tennis players. The owner of an unoccupied, 10-acre lot has big dreams to build a structure with 16 ping-pong tables and seating for all the rabid fans of the sport. Local residents are furious, of course, claiming this Field of Dreams will somehow attract ping-pong fans from near and far, jamming local roadways. Lawyers are hired. Social media is aflutter. And all are descending on the zoning board for the epic battle. Run, Forrest, run!
STATEWIDE - Arguably the strongest weapons in the opioid war is naloxone, the overdose-reversal agent that has saved countless lives. Several years ago, New Jersey made the right medical and moral decision to allow Narcan - the most common commercial brand of naloxone - to be sold over the counter and without a prescription. But now a report from Rutgers University has cast a shadow: Suburban pharmacies are three times more likely to stock Narcan than their urban counterparts, for some reason. Only 17 percent of the drugstores in Atlantic City, for instance, had Narcan on their shelves, even though the OD death toll in urban areas is much higher. It makes the most obvious sense to put Narcan where it is most needed, yet it appears racial and social disparity is once again plaguing New Jersey. C'mon. Read more in today's NJ Spotlight.
OFF-AIR - Let's assume that "hot adult contemporary" isn't that hot anymore, with the sad word that WPLG 95.5 is going off the air at 11:59 p.m. on May 31. And let's also assume that Christian radio is all the rage, as that what appears to be coming to 95.5. Most of us don't remember life before WPLJ, which first hit the New York airwaves in 1971 as an awesome rock station. It mellowed over the years, and is now most well known for the 20-year run of the "Scott & Todd show." News reports say the station suffered a 70 percent cut in revenue off the last decade, prompting the sale to the Christian company. Let's see what Jesus will do.
OFF THE RAILS - Inadequate, uncertain and unsustainable. Those are the three words being used to describe funding for New Jersey Transit. Nat Bottigheimer, State Programs and New Jersey Director at the Regional Plan Association, penned an op-ed for NJ Spotlight,saying $25 million more allocated for NJ Transit in this year's budget is woefully insufficient for even the most basic costs like mandated growth in payroll and health insurance. In fact, the allocation given to NJ Transit equates to $50 million less than it received last year because of inflation and rises in insurance, healthcare and other costs. Murphy has vowed to stop starving NJ Transit, noting all this "extra" funding. Budget hearings commence next week, as all pledge a well-run, high-quality transit system. Will the rubber hit the road?
IN OTHER IMPORTANT NEWS
CANBERRA, Australia - There's apparently no spell check in Australia's central bank, which is dealing with typos on 46 million bank notes. That's embarrassing. What's also embarrassing is that the mistake was discovered by a radio station, which has been blasting the goof across the airwaves and social media, laughing all the way. Triple M radio posted on Instagram earlier today a magnified photograph of a 50 Australian dollar ($35) note showing the misspelling of "responsibility." The word appears three times on the note and the third "i'' is omitted every time. The Reserve Bank of Australia vows the spelling error will be corrected in the next print run.
THIS DAY IN HISTORY


Someone turned on a lava lamp on this day in 1960, and maybe some Elvis, when the FDA approved the birth control pill.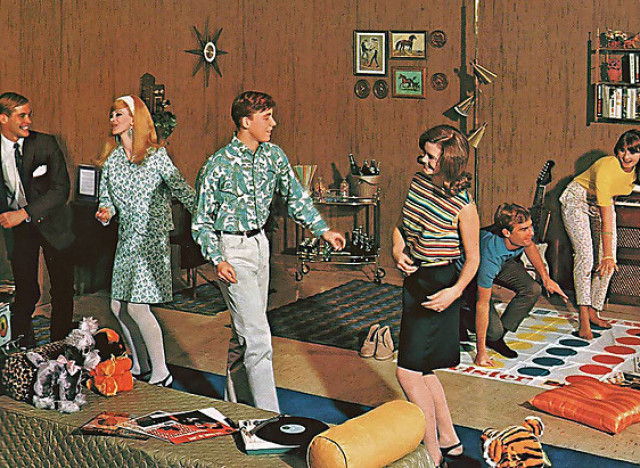 WORD OF THE DAY
Majordomo - [may-jər-DOH-moh] - noun
Definition: The head steward of a palace
Example: Our majordomo ran away with the stew.
WIT OF THE DAY
"Sane is boring."

- R.A. Salvatore

WEATHER IN A WORD
Cooler
THE NEW 60
A Jaffe Briefing Exclusive
by Andy Landorf & John Colquhoun