NEW BRUNSWICK – Three Assembly Republicans decided to use a thoroughly unrelated bill to voice their discontent for Rutgers' decision to hire an expensive football coach. There was a bill that had absolutely nothing to do with the football team on their desks; it focused on a $250,000 appropriation for a special care treatment center at the dental school in New Brunswick, NJ.com reports. Assembly members Michael Patrick Caroll, Amy Handlin and DiAnne Gove voted no; the bill passed 6-3. Caroll admitted the program was worthy, of course, but refuses to approve anything for Rutgers, following the $32 million coaching contract. "I have no objection whatsoever to spending money on dentists," Caroll said. "But if Rutgers has $20 million to spend on a football coach, we don't have to give them any more." So, following the bizarre logic, we should choke funding for the rest of the university. Yeah. That'll teach 'em.
TRENTON – Plastic straws may soon be as rare as telephone booths in New Jersey, as legislation marches through the Senate to enact one of the nation's strongest anti-plastic laws. The measure would ban plastic straws and plastic bags from stores and it includes a few other environmentally-friendly initiatives. It is to also go before an Assembly committee on Monday before heading for full-body votes. This law would also eventually abolish polystyrene cups and food containers, and create an advisory council to weigh whether Styrofoam products could be used in certain situations because viable alternatives simply don't exist. This all makes sense and is certainly doable; it just requires some big-time consumer education.
ON THE ROAD – Holiday parties are already starting. So are police crackdowns on merrymakers foolish enough to get behind the wheel after too many spiked eggnogs. Starting today, cops across New Jersey go on high alert for drunk drivers. The Star-Ledger says 133 police departments are sharing a $600,000 federal grant for extra patrols and checkpoints. But, cop shops that didn't get "Drive Sober or Get Pulled Over" grants may still be on a ticket blitz. Last year's holiday crackdown nabbed 1,270 impaired drivers, plus ticketed 5,700 speeders, 3,125 motorists with no seatbelts and 2,000 distracted drivers. So jingle all the way, safely.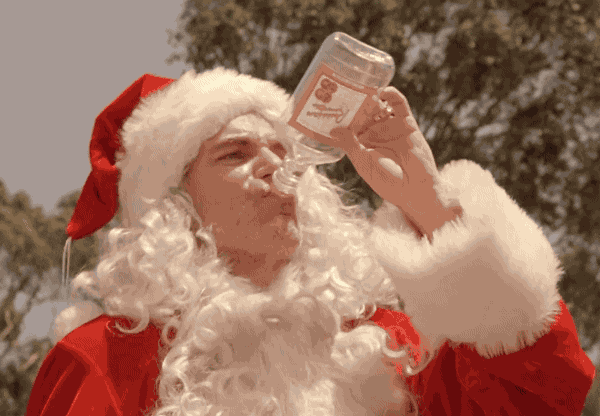 NEW YORK – When you head into Times Square to act like a tourist, it will be like you never left suburban New Jersey. That's because all the stuff you buy at your local Target will soon be on sale at 42nd Street between 7th and 8th avenues. Yup, you guessed it. The Broadway lights have also lured Target, projected to open one of its highly-profitable "small-format" stores in 2022, CNBC reports. With all this ongoing commercialization of Times Square, we can't wait to take a train into midtown to hit a Modell's for overpriced sneakers and an Old Navy for some cheap jeans, before picking up a microwaved egg sandwich at Starbucks. Ah, the glamour of the big city.
STATEWIDE – The next time you yank a fresh tomato for your salad, listen very, very carefully. Researchers now say our vegetables scream at a high pitch, beyond the ability of your weak ear, each time the stem is yanked from the soil. It had already been revealed that our favorite vegetables somehow have the capability of seeing, hearing and smelling, but they were commonly thought to be mute. Now, according to The New Scientist, researchers at Tel Aviv University have recorded airborne sounds when crops are stressed, such as when they whine about being water starved. Microphones placed 10 centimeters from the plants picked up sounds in the ultrasonic range of 20 to 100 kilohertz, which the team says insects and some mammals can actually hear. So, be nice to that tomato. It has feelings too.


JERSEY CITY – Advocates for the jewel of public space known as Liberty State Park continually beat back attempts to develop it for a waterpark and a motorcross stadium, among other revenue generators. According to NJ Spotlight, a move to preserve the park from any future commercialization or privatization cleared a state Senate committee yesterday, but not before the squeeze was put on Sam Pesin, president of Friends of Liberty State Park, to chat with a billionaire developer who wants an undeveloped 20-acre tract to expand the nearby Liberty National Golf Course. As the legislation to preserve the park goes before the full Senate for consideration, let's fight for Liberty.
IN OTHER IMPORTANT NEWS
PHILADELPHIA – The last time a horse galloped through the city was likely when the Founding Fathers were busy ringing a liberty bell. A former racehorse ran loose through the streets of Philadelphia for about an hour before being stopped by police in the Port Richmond area shortly before midnight Wednesday. Of course, social media went berserk and an alert was sent out on a citizen app (a modern-day Town Crier), telling everyone that a horse was on the loose. Aaron "Cowboy Ace" Moore told NBC 10 that his horse, Harley, had escaped from a trailer that wasn't properly secured near Penn's Landing. No one was hurt; Harley is now telling all his friends about his tale of whoa at his stable in Ambler, Montgomery County. They suggest he rein it in.
THIS DAY IN HISTORY
America was apparently thirsting for a third sequel in the Star Trek movie franchise, as the Enterprise crew squeezed back into those uniforms for "The Undiscovered Country" on this day in 1991.
WORD OF THE DAY
Crapulous – [KRAP-yəh-ləs] – adjective
Definition: Sick from excessive indulgence in liquor
Example: I feel positively crapulous this morning and still reek of that damn scotch.
WIT OF THE DAY
"Popularity should be no scale for the election of politicians. If it would depend on popularity, Donald Duck and The Muppets would take seats in Senate."
― Orson Welles
TODAY'S TRUMPISM
"We should just cancel the election and just give it to Trump."
- Donald J. Trump
WEATHER IN A WORD
Warming
THE NEW 60
A Jaffe Briefing Exclusive
by Andy Landorf & John Colquhoun