STATEWIDE - One business in Pleasantville has flooded 32 different times since the early 1990s, and rebuilt each time with taxpayer money. A single-family home in North Wildwood has been flooded and rebuilt 23 times, again, on your dime. NJ.com reports that New Jersey is filled with 3,330 properties that have routinely flooded since the 1970s, some as many as 20 or more times, yet are rebuilt, rebuilt and rebuilt again. And the article raises this important point: maybe these people should move or at least be required to elevate the properties? It has all cost the National Flood Insurance Program $700 million or so; that's the program that provides low-cost flood insurance to a quarter-million New Jersey property owners. As this program is gasping, when do we stop the madness?
STATEWIDE - Anyone forced to show up in municipal court in New Jersey thinks the same thing: This town is using me as an ATM. The Star-Ledger devoted its front page this morning to the indisputable premise, reporting local courts have reaped $400 million in fines and fees last year. A state judiciary report has 49 separate recommendations to rein in the courts and to restore some faith in the system. Let's begin here: End mandatory court appearances when people just want to plead guilty. The requirement to show up in court - and then pay court fees - is often a much stronger punishment for working parents and other busy people. Why can't we just mail in a check to adjudicate whatever ticket a local cop felt like writing at his/her discretion? Heck, we'll even throw in a lovely note with apologies.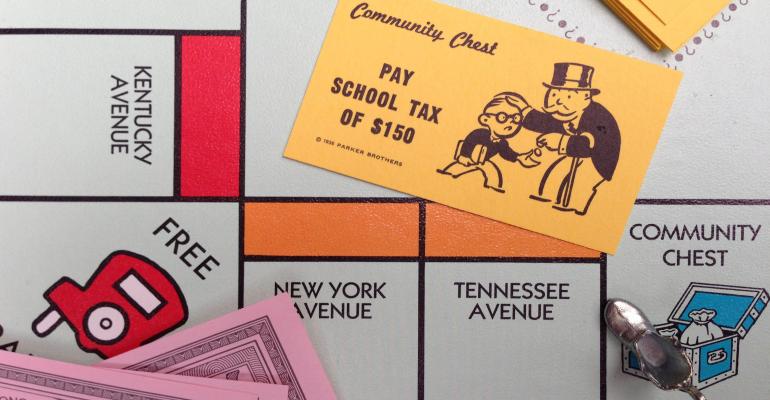 POINT PLEASANT - Okay, you've now dropped $40 to desperately try to knock down some balls and win your hopeful daughter a small stuffed animal. Do you have the worst aim on the boardwalk, or is there something more at play? State officials are now fanning across the boardwalks of New Jersey, as part of their annual visit, to ensure these games aren't overly rigged. Already, state officials are raising some eyebrows at 12 arcades, amusement games and shops in Seaside Heights and Atlantic City. Some examples: crane machines loaded with prizes too heavy to lift. A boardwalk game's top prize thoroughly impossible to win. And purveyors refusing refunds, no matter what.
STATEWIDE - Unclear if this will do a damn thing, but kudos to New Jersey for joining a multi-state lawsuit against the feds, saying Trump's new tax laws are "politically motivated and politically targeted' against high-tax areas where Democrats conveniently happen to live. The argument: this controversial tax policy infringes on the constitutional right of states to set fiscal policy by limiting the federal deductibility on property taxes to $10,000 per year. Democrat-heavy New Jersey and New York - places where Trump has made an alleged fortune - are getting particularly shellacked. Attorneys are citing a particular comment by Treasury Secretary Steven Mnuchin that $10,000 cap was crafted to "send a message to the state governments that, perhaps, they should try to get their budgets in line."
TRENTON - They're gone, but haven't quite left yet. The ousted police director and recently retired fire director are apparently still on the city's payroll as, um, "consultants." Mayor Reed Gusciora gave police director Ernest Parrey Jr. the boot during his July 1st swearing-in and fire director Qareeb Bashir voluntarily left. But, The Trentonian has learned both quietly landed gigs as consultants at least until July 31, each adding $9,000 to their 2018 salaries. Neither is actually expected to show up at City Hall, the newspaper reports, but the mayor says "they're still helpful to the city. It's not like we would completely cut ties."


IN OTHER IMPORTANT NEWS
MISSOULA, Mont. - It is unclear, exactly, how Justice of the Peace Marie Andersen expects to be re-elected in November. A blistering investigation shows she was often late for work, or never showed up. She had her employees walk her dog, and often left court fees in an unlocked box on her back porch. Andersen isn't talking about the allegations, The Missoulian reports. The report also notes court staff were required to handle all recycling, like washing and removing labels from bottles, saving cardboard, saving food for composting and re-using paper - including some that had confidential information about defendants on the other side. There's a bunch more wacky stuff in this well-timed report, paving the way for a slam-dunk victory for her opponent.
THIS DAY IN HISTORY
It was this day in 1994 that the Jets went for a local fan favorite and soccer great who played in three World Cups, signing Tony Meola - of Kearny High School fame - as a place kicker. It was a short-lived relationship.
WORD OF THE DAY
Cheville - [shə-VEE] - noun
Definition: A word or expression whose only function is to fill a metrical gap in a verse or to balance a sentence
Example: In New Jersey, the f-word makes for a terrific cheville - as in, "What's with this f***in' traffic?!"
WEATHER IN A WORD
Refreshing
THE NEW 60
a Jaffe Briefing exclusive
by Andy Landorf & John Colquhoun