TRENTON – Twenty-six campaign stops. That is the frantic schedule for Gov. Phil Murphy and his wife, Tammy, between today and Sunday. Politico reports the dynamic duo will be pretty much everywhere as they shower love on Democrats in key legislative districts, with Election Day on Tuesday. There will be breakfasts, and lunches and dinners, as well as rallies and canvassing kickoffs. There will be hot dogs. There will be balloons, streamers, campaign signs and workers holding coffee cups. There will be selfies. There will be State Police security. There will be speeches, applause and maybe even an unscripted yelp. It's unclear if all this bustle will move any needles, as most races aren't competitive. But these politicians and the powerful Democratic machines that back them can't complain the governor ignored their races. And he will expect them, at some point, to return the favor.
SOUTH JERSEY – Congressman Jeff Van Drew's "no" vote on moving ahead with the Trump impeachment inquiry didn't win him any friends among fellow Dems — especially the more progressive members of his party. It wasn't meant to. Van Drew was playing politics, NJ Spotlight explains. The sprawling South Jersey 2nd District that sent him to Congress in 2016 had already elected him to the state Senate, where he was the most conservative Democrat in the Legislature. The 2nd district leans Republican. And three GOP candidates have already announced they plan on winning Van Drew's seat back. He made a calculated bet and can always explain away a "no" vote. He's already told his constituents that he wanted to stop the country from being torn apart at the seams. Cagey? Absolutely. Smart? Hey, he's been elected to Congress and we haven't.
TRENTON – It really depends on perspective. On one hand, Gov. Phil Murphy took a $4.6 million drop in his annual income in his first year as governor. Yet, it is really, really tough for the typical New Jerseyan to pity a guy who was still able to haul in $2.2 million in 2018, according to tax records reported in NJ.com. The governor is still a guy who knows the value of glorious passive income, with most of his income coming from shrewd stock investments. Yet he still lost tens of thousands of dollars on that women's soccer team he owns, which all makes for terrific write offs. So grouse all you want about his heavy-hitting income, but the governor still paid $833,000 in taxes last year, as well as $210,700 in property taxes for his Middletown mansion. So, what are we supposed to glean from all this? Murphy is rich, as well as know, and he pays a lot in taxes, as we all know. Um, ok.
IN SCHOOL – A church group has generously paid off cafeteria debt for 1,500 families whose kids owed lunch money to public schools in Nutley, Parsippany, Roselle, Sayreville and Somerville. The non-denominational Bible-based "Liquid Church" tells NJ101.5 it raised thousands of dollars in October to wipe away school lunch tabs. Of interesting note: Cherry Hill school officials flatly rejected the church's offer, even though a national spotlight hit the district this summer for threatening to serve no-frills tuna sandwiches to kids in debt and to bar them from extracurricular activities. Superintendent Joseph Meloche, who has received offers from other do-gooders as well, continues to say erasing the debt "does not solve the problem … (it) does not help those who need support and (it) does not address the many families with financial means who have just chosen not to pay what is owed." Tuna, anyone?
NORTH BRUNSWICK – This new business might become all the rage. Or, help relieve it. The state's second "rage room" (the first is in Hackensack) just opened, giving over-stressed people in Central Jersey a safe place to smash furniture, kick-in TVs, demolish dishware and assault kitchen appliances. The owner of Break Stuff NJ tells NJ.com that rage rooms allow people to "escape the real world," vent their anger and ease frustrations. It's got some pluses: Nobody gets hurt or ends up in handcuffs. And, at $25 bucks for 20 minutes, it's cheaper than seeing a shrink; they prefer their televisions in good, working condition.
NEWARK – Who knows? Maybe the $2 million that the late Philip Roth donated to the Newark public libraries will somehow inspire the next great novelist. Roth, who died last year, donated 20% of his entire estate to the city's library system as part of his will. The Wall Street Journal reports the money is earmarked not just to help the libraries, but to help Newark. Roth, a Pulitzer Prize winner, has also given the Newark Public Library his personal book collection. Roth used his native Newark as the backdrop for many of his greatest works, and is still persistently making an impact from the beyond.


IN OTHER IMPORTANT NEWS
SYDNEY – You want weird news? Give this a whirl: A girlfriend visited her boyfriend in prison 18 years ago, smuggling in a small balloon filled with marijuana. He hid it deeply up his nostril and, well, it kind of just stayed there. Fast forward to 2019. A team of Australian doctors converged at Westmead Hospital for emergency surgery, after he claimed of chronic headaches and a sinus infection. Apparently, he dug the package so far up his right nostril that he assumed he swallowed it, and then forgot about it. Doctors successfully removed the obstruction, deeming it as "decaying plant matter."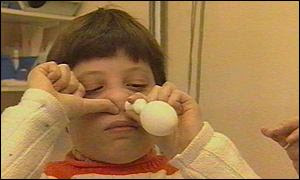 THIS DAY IN HISTORY
In Mike Tyson's head, likely the penalty for feeling up a woman is "free," as it was this day in 1990 that a jury awarded one of his victims just $100 for fondling her.
WORD OF THE DAY
Gravid – [GRAV-əd] – adjective
Definition: Pregnant
Example:
"Mom, I think I may be gravid."
"Well, sweetie, this is cold and flu season. Some tea?"
WIT OF THE DAY
"Reality leaves a lot to the imagination."
― John Lennon
TODAY'S TRUMPISM
"What you're seeing and what you're reading is not what's happening."
- Donald J. Trump
WEATHER IN A WORD
Chillin'
THE NEW 60
A Jaffe Briefing Exclusive
by Andy Landorf & John Colquhoun