Integrated Medical Alliance-IMA
MONMOUTH COUNTY, NJ: IMA Urgent Care/Hazlet Family Care located at 3253 Route 35 North, Suite One, Hazlet, NJ, just received top marks in the Google Rating Comparison of urgent care centers in Monmouth County. IMA Urgent Care medical group is made up of local hometown physicians with over 20 years of experience serving Monmouth County. IMA is not a chain owned by out of state investors. IMA's motto is: "Quality Care and Compassion above all else".
IMA is "group-without-walls", made up of more than 40 dedicated healthcare providers who have joined together to offer even better care to patients in Monmouth County. IMA is comprised of seven primary care practices, a diagnostic center, and three urgent care centers located in Middletown, Shrewsbury and Hazlet.
Dr. Brendan Mulholland comments, "We are truly humbled how the community has recognized our labor of love with the highest Google ratings in Monmouth County. I am extremely proud of the team we've assembled from the medical professionals to the receptionists, medical assistants, and especially Lorelei Kochanek our IMA Hazlet Urgent Care office manager, who keeps everything running like a well oiled machine. Our goal from day one when we opened over 6 years ago was to go above and beyond for each and every patient. We have remained true to our word and will continue to do so. We are thankful to the community we serve."
Urgent Care
IMA Urgent Care Centers offer an alternative to the hospital emergency room for minor emergencies, as well as acute and chronic illnesses. No appointment is necessary at these offices. When you go to one of these centers, your basic information is already available via our computer link (if you are an IMA patient).
X-Ray


Is it a sprain—or a strain? Just an ache, or did something break?
All IMA Urgent Care Centers have x-ray machines and full-time, onsite radiologic technologists to help determine exactly what is bothering you. While x-rays are most commonly used for bones, they can tell your provider valuable information about kidney stones, coughs or other medical issues, information that helps your provider plan the best treatment for you.
All the X-rays taken at our IMA Urgent Care Centers are sent to a board-certified radiologist to confirm the findings. This process is known as an "overread," and it is an extra step that we take to ensure our patients receive the most accurate results and the highest quality care.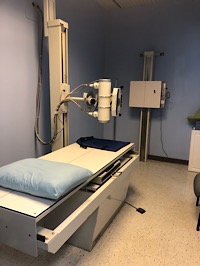 Laboratory
Laboratory services are available on-site. A facsimile copy of our doctor's findings will be sent to your primary care physician automatically if your doctor is a member of Integrated Medicine Alliance. If your doctor is not part of Integrated Medicine Alliance he or she may call us for a copy of your record.
HOURS
Monday-Friday8AM-8PM
Saturday-Sunday8AM-6PM
PHONE
FAX
With over 20 years of experience serving Monmouth County, IMA Urgent Care Centers combine the convenience of walk-in clinics with the reliability of primary care, all without the long wait times and higher co-pays of hospital emergency rooms. IMA Urgent Care Centers integrate fully with our Primary Care locations, meaning that if your primary physician is an IMA member and you visit an Urgent Care Center, your doctor will be notified and all records will be accessible. For more information about IMA click here.