OCEAN CITY - The thongs will remain. There was a moment this summer when Ocean City officials were debating the future of thongs, after a resident of this family-friendly, dry town claimed the beach is getting a little too cheeky, the Courier Post reports. But, in the end, it was decided to leave things and thongs just where they are. But please remember sunscreen.
TRENTON - There's plenty of thinking going on in Trenton these days, as state lawmakers are using the sleepy summer months to concoct new ways to dig New Jersey out of its financial mess, NJ 101.5 reports. The suggestions - and they are only suggestions - would stir plenty of controversy. Think about counties being allowed to tack on their own sales tax. Or New Jersey putting tolls on federal highways to pay for state pensions. Or merging all those itty-bitty school systems into K-12 districts. Or allowing counties to have police forces to relieve local towns. It's all being framed as common-sense stuff. But New Jersey, as we all know, is not exactly known for common sense stuff.
PATERSON - The view from the council dais is often very different than the one from the mayor's office. Take newbie Mayor Andre Sayegh who, as a councilman in 2014, fought his predecessor for putting the city $35 million deeper in debt to resurface streets. Now the mayor is changing his tune. Persistent complaints from motorists has Sayegh ready to spend that leftover bond money to repave 23 streets. He tells the Paterson Press: "Although I balked ... the project was approved and should be completed." Two councilmen are now pushing back, so now the mayor is the one preparing for a bumpy ride.
IN OTHER IMPORTANT NEWS
NEW DELHI - An Indian lawmaker has officially pulled the Hitler card, dressing as the deranged Nazi leader to demand more money for the development of his state in southern India. Naramalli Sivaprasa even raised his hand in a Nazi salute for the media on Thursday, in sending a message to Prime Minister Narendra Modi "to not be like Hitler." Sivaprasa may be a little tone deaf and, of course, painfully ignorant. According to the AP, Hitler remains a figure of fascination in India, where the Holocaust is not well known, and Hitler is widely seen more as a strong leader than a genocidal madman. His book, "Mein Kampf," is actually sold at the corner bookstore, and bootleg copies are regularly sold in the streets of New Delhi. Jeez. Can someone please educate the masses?
ELSEWHERE - Late night comedians are enjoying this gift from the White House: the proposed creation of "Space Force" by 2020. Trump wants $8 billion to get this started, and will also need Congress to approve the creation of a new military branch. Another sticky issue: The "Outer Space Treaty of 1967," banning any single country from sticking weapons of mass destruction among the stars. But Wall Street investors are intrigued, seeing the "space industry" as something that could be worth more than $1 trillion if Trump gets his way. Now, there's even a "Space 20" of the top stocks that would swell, like Apple, Alphabet and Microsoft, prompting the awkward question: Is this really about national defense or further enriching the richest of the rich?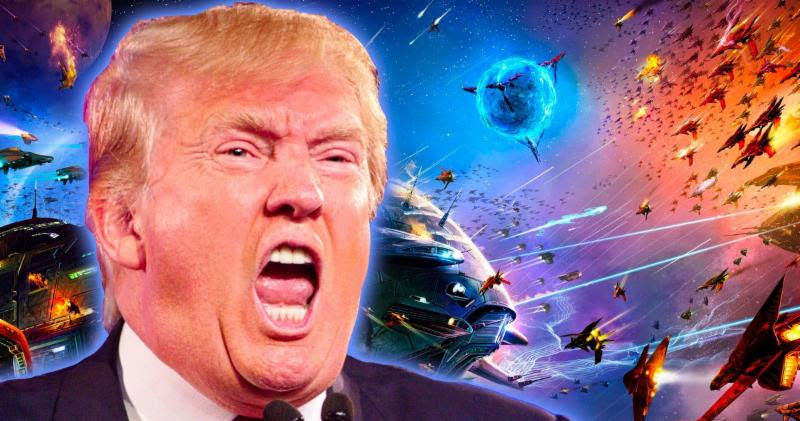 THIS DAY IN HISTORY
Never too late to do the right thing, as the U.S. announces on this day in 2012 to begin cleaning up all that Agent Orange we dumped on Vietnam during the war.
WORD OF THE DAY
Armogan - adjective
Definition: Derived from an even older French dialect word, armogan is a 19th century naval slang name for fine weather-in particular, the perfect weather for traveling or starting a journey.
Example: It's an armogan day at the Jersey Shore.
WEATHER IN A WORD
Uh, Armogan