**The Jaffe Briefing Heads to the Beach on Monday, Returning After Labor Day**
OUR TAKE ON THE NEWS IN NEW JERSEY
LAMBERTVILLE - Suds will be flowing Sunday night, as Dawn dish liquid has invited the entire town to a Family Dinner on North Union Street to see if it can clean 5,760 dishes... with just one bottle of dish liquid. The company is building a 2,000-foot-long table, cooking up a three-course meal, and will be cleaning piles of dishes, as the townsfolk chow down elbow-to-elbow. With all this incredible effort, expense and publicity, we have a strong suspicion this one little bottle will do magic.
BEDMINSTER - At first, President Trump said the opioid addiction is "a serious problem." But, now, with the urging of Gov. Chris Christie, Trump has elevated the talking point to match what Christie has been saying. So, now, opioid addiction is officially a "national emergency." Here is the revised, upgraded, new-and-improved comment from the President: "The opioid crisis is an emergency. And I am saying officially right now: It is an emergency, it's a national emergency," Trump told reporters. Christie, in a prepared statement, said the President "deserves great credit" for swapping the words.
RANDOLPH - President Trump threw a big wet blanket on opening day festivities at Tamarack Day Camp here, spoiling a jaw-dropping thrill for 250 youngsters. Why? The Secret Service is banning professional skydivers - dressed as superheroes - who were supposed to parachute into Tamarack on Wednesday. The feds grounded Superman, lassoed Wonder Woman, and clipped Batman's wings because the camp is a mere 550-feet within the 10-mile no-fly zone at Trump National Golf Club. So, instead, camp staff squeezed into those superhero costumes and arrived on top a fire truck, hoping to make camp great again.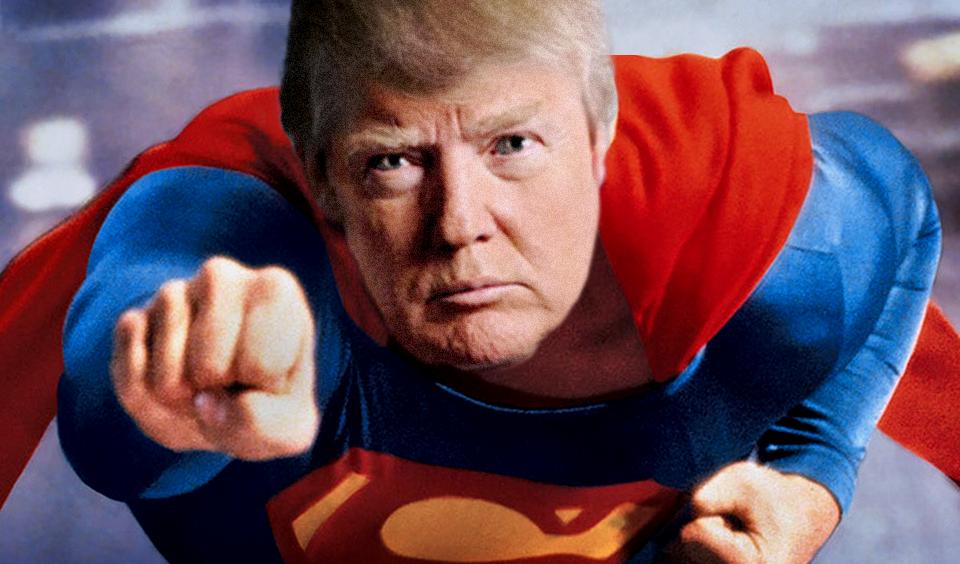 HACKETTSTOWN - Hershey has Hershey. And now, everyone driving through Hackettstown will know this Warren County town has M&M's. Town officials and Mars Chocolate executives have unveiled new roadside signs featuring the red and yellow M&M's characters, announcing: "Made in Hackettstown, N.J., Proudly Since 1958." The melt-in-your-mouth chocolate treat celebrated its 75th anniversary last year, and were originally made in Newark exclusively for American soldiers during World War II. Good to see Hackettstown embrace this slam-dunk branding. Take that, Hershey.

TRENTON - Making license plates could be the next job for an out-of-work man who threatened to shoot two temp agency clerks because they could not find him a job. Cops arrested the agitated 27-year-old man they found ranting inside a South Broad Street employment agency last week, and confiscated a handgun he apparently brandished at the two women. The Trentonian says the man was ticked that the temp agency could not match him with a job that suits his particular skills. Given his criminal charges, and clear instability, a judge may be more accommodating to find a spot in the prison workshop.
IN OTHER IMPORTANT NEWS
CONCORD, N.H. - A gubernatorial grudge match is shaping up, after New Hampshire Gov. Chris Sununu threw down the gauntlet, challenging Vermont Gov. Phil Scott to a road race. Gutsy move for Sununu, whose only racing experience came last Saturday behind the wheel of a souped-up mini-school bus for a drag race charity event. He lost. Scott, on the other hand, is a 27-year stock car racer with 30 wins under his belt. He also races motorcycles and snowmobiles. Despite exchanging a few trash-talk tweets, WMUR says Sununu and Scott have not agreed on what kind of vehicles they will race or when their showdown will happen. But who knew governors could be so darn interesting?
THIS DAY IN (DARKLY IRONIC) HISTORY
It was on this day in 1984 that President Reagan made a joke, but no one laughed. As he did a voice check for his weekly radio address, Reagan declared, "My fellow Americans, I'm pleased to tell you today that I've signed legislation that will outlaw Russia forever. We begin bombing in five minutes."
That joke leaked out, with international media dissecting the voice check. One Dutch news service remarked, "Hopefully, the man tests his missiles more carefully."
WORD OF THE DAY
Nimbus - [NIM·buss] - noun
Definition: A cloud, aura, or atmosphere, etc., surrounding a person or thing.
Example: The Trump National Golf Course is now an international nimbus of fame.
WEATHER IN A WORD
Calm