GALLOWAY - For Stockton University students, it was a helluva run. For the past few years, 200 lucky students got to live in a freshly-renovated Stockton Seaview Hotel & Golf Club, featuring room service, free laundry and flat screens - all for the bargain price of a public university. Pretty darn posh. But the school has ultimately decided to sell its golf resort-turned-awesome dorm for $21 million, NJ.com reports, as it prepares to open its shining new oceanfront campus in Atlantic City next month. Still, a move from a golf resort to an iconic boardwalk is not bad, as many public university kids expect 1960s-style high-rises, in something called "Phase IV."
NEW BRUNSWICK - We all love our Rutgers studies, but this one is a no-brainer. A university researcher says that students allowed to brainlessly surf smartphones, laptops, etc. during classroom lectures do worse on their final exams than those unconnected kids who you would assume are actually paying attention. TAPInto New Brunswick talks about the research of one psychology professor who banned all these dang electronic devices during half his lectures. The result? Having these distracting devices lowered the final exam scores by at least five percent or half a grade. Hmm. What to do next?
HOBOKEN - You're aboard a cruise ship bound for Bermuda. Booze is flowing, music is pumping and the ocean views are perfect. What else could you need? Apparently, a 31-year-old Hoboken man also needed photos of a 13-year-old's butt, the Jersey Journal reports. That's why he ended up in federal court in Newark yesterday, accused of putting his iPhone under a teenage girl's dress to snap photos of her privates as she looked at the water. Duh. There were witnesses, thankfully, and this dumb prank is now all over the courts and media. Next time, just stay at the open bar and try talking to actual adults.
NEWARK - How do you pay for a new PATH station? Obviously by finding someone else to do it. State officials are salivating at the idea of United Airlines paying into the kitty for a $1.7 billion extension of the PATH trains to Newark Liberty International Airport. Politico reports on proposed legislation that would hike the state tax on aviation fuel. It's pretty clever. Right now, the state only collects taxes on gas for taxiing and takeoff, not flight time. Time to remove that "exemption," says Senate President Steve Sweeney.
CAMDEN - All we can say is it must make one great cheesesteak. How else can you explain how a local sandwich shop has received the key to the city during ceremonies at City Hall? TAPInto Camden was there to chronicle the historic moment, as Mayor Frank Moran decided to present his very first ceremonial key to the third-generation owner of Donkey's Place. The mayor, sporting a "Straight Outta Camden: Donkey's Place" T-shirt, said it was all about paying tribute to the Parkside institution that has been serving up cheesesteaks on poppy-seed rolls for 75 years, rivaling anything they can concoct across the Delaware in that irrelevant city that claims to be home to the cheesesteak. Yeah, right.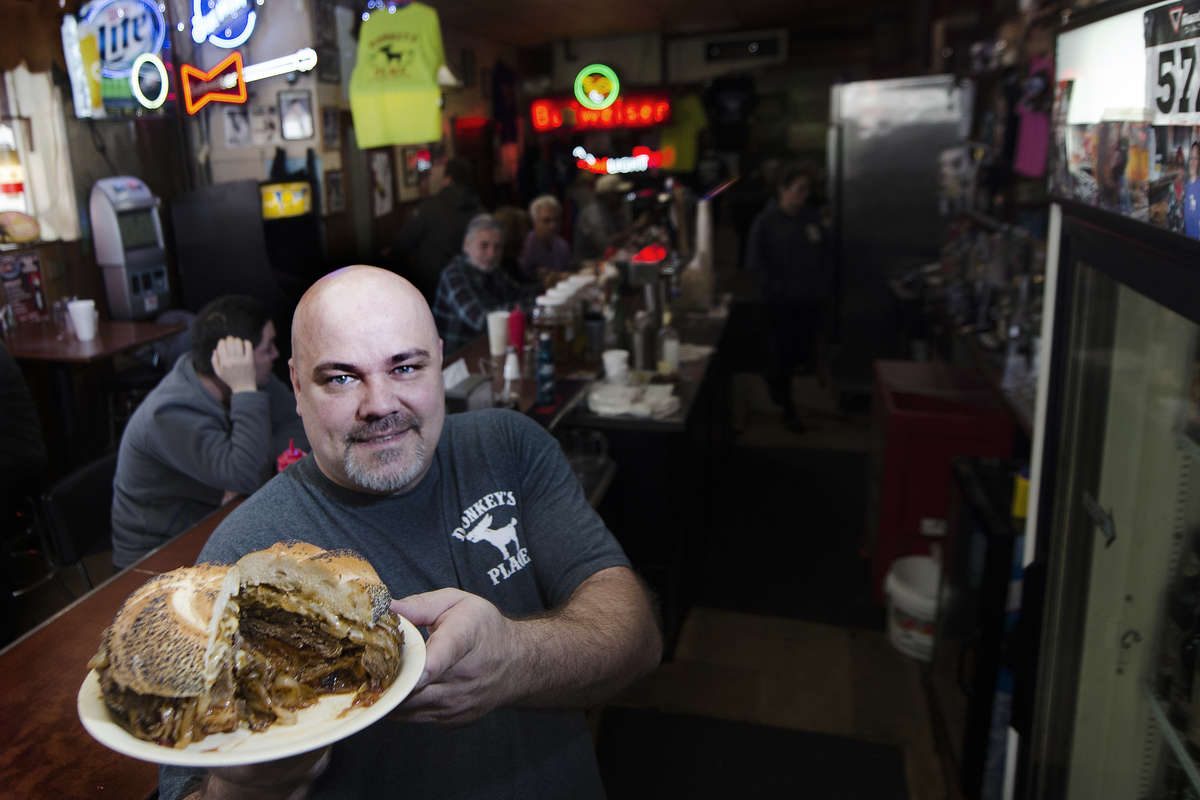 IN OTHER IMPORTANT NEWS
NEW DELHI - You know all that hair on your barber's floor that he refuses to sweep? Well, it's all worth big bucks in India, where three armed bandits recently entered a New Delhi workshop and made off with 500 pounds of human hair worth more than $20,000 from a wig maker. All that wiry stuff growing out of your scalp is of tremendous value to these Indian wig makers, The Indian Express reports, as this one victim had to borrow $17,000 last month just to get enough hair from South Indian wholesalers. The newspaper reports that hair is obvious big business in India, worth more than $300 million a year, with hair eagerly gathered from Hindu temples where devotees shave their heads in religious sacrifice. Think about that during your next visit to Supercuts.
THIS DAY IN HISTORY
Any cow farmer in Nebraska and Iowa would ask: Why eat vegetables? Case in point: It was this day in 2013 that a parasite was found in salads, causing people in more than 223 diners in the two states to get sick.
WORD OF THE DAY
Agog - [ə-GAHG] - adjective
Definition: Full of intense anger or excitement
Example: I was all agog when the armed bandit stole my hair.
WEATHER IN A WORD
Thick
THE NEW 60
a Jaffe Briefing exclusive
by Andy Landorf & John Colquhoun