OUR TAKE ON THE NEWS IN NEW JERSEY
STATEWIDE - The governor's special commission on pensions and health benefits is ringing alarm bells in the largest belfry it can find, saying only the swiftest, bravest and broadest reform can save New Jersey from itself. The Star-Ledger consumes its front page this morning with this glaring fact: In five years, a quarter of the state's annual operating budget will be consumed by pensions and benefits for state workers. Just like the governors before him, it all rests on Phil Murphy to somehow solve this insolvable mess. Or, in a tried-and-true Jersey tradition, punt it to the next guy. Click here for exciting real estate opportunities in Florida.
ON THE RAILS - The Regional Planning Association is looking into its crystal ball this morning, telling the future of a commuter rail system that could zoom riders from Newark to Connecticut, Long Island and the Hudson Valley region. The crystal ball shows the creation of a new National Park that touches the Meadowlands, as concerns about flooding and climate change require more undeveloped land in one of the most congested places on the planet. NJ 101.5 reports that planners envision this all should happen in 25 years or so - once the Gateway rail project is completed, thus opening a reliable, modern connector under the Hudson River. This vision - by the way - requires considerably more funding for NJ Transit, so perhaps a Plan B can be a new fleet of horses and buggies.
SOUTH HACKENSACK - It's one thing to miss a traffic sign, but it's another thing to miss a traffic sign going through your sunroof. A motorist tried to convince cops she didn't have too much to drink, all while a giant traffic sign protruded out of her sunroof, resting in the backseat. She had apparently made it all the way from Secaucus on Sunday before police pulled her over on Route 46, according to the New York Post. Her response? She had no clue the sign was there. Makes perfect sense.
BACK IN TRENTON - Gov. Chris Christie is using his unceremonious dismissal from President Trump's transition team as an I-told-you-so moment, saying he was booted because he warned of problems now plaguing the presidency. Logical, as the governor believes he has not made an error since playing on the JV baseball team at Livingston High. Christie told Politico that he had concerns about hiring Michael Flynn as national security advisor, of course. "Suffice to say, I had serious misgivings, which I think have been confirmed by the fact that [Flynn] pled guilty to a felony in federal court." Interestingly, Christie has expressed zero worries about his choice for president.


STATEWIDE - With all this crazy news, why get out of bed? Pfizer agrees, launching a much cheaper version of its popular Viagra, rather than losing to stiff competition next week when generic completion is finally allowed. Pfizer is now selling its magic pill at half of the $65 retail price beginning Monday, when its patent-protected monopoly ends. At the end of all this, these impotence pills may be sold for up to 90 percent off. Makes us all want to stand and salute.
IN OTHER IMPORTANT NEWS
LANGHORNE, Pa. - He is certainly not your traditional mall Santa.Perhaps that is why the Oxford Valley Mall in Bucks County ordered its mall Santa to stop flipping kids over and showing off the tattoos on his beefy forearms. One arm reads "Naughty," while the other is emblazoned with "Nice." His fan base was miffed, reports Philly.com, as Santa was ordered to tone down the antics down and just take the "traditional" Christmas photos, for which he is probably earning $12 an hour. No tattoos. No flipping. Just sit, Santa, and smile. Santa isn't commenting to Philly.com about the new rules, and his daughter says he will follow the rules so he doesn't get canned during this season of giving.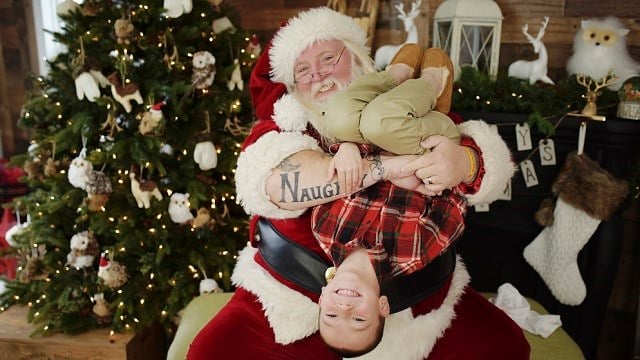 THIS DAY IN HISTORY
It was this day in 2007 that Mets minor league outfielder Tim Tebow - with a .226 batting average - wins the Heisman as star quarterback at the University of Florida.
WORD OF THE DAY
Maieutic - [may-YOO-tik] - adjective
Definition: Relating to or resembling the Socratic method of eliciting new ideas from another.
Example: The only way New Jersey will solve its pension mess is by deploying the maieutic art, to destroy traditional beliefs, false answers and ignorant cocksureness.
WEATHER IN A WORD
Chill