OUR TAKE ON THE NEWS IN NEW JERSEY
ON THE HIGHWAY - Authorities were frantically looking into a "mystery tar" that appeared suddenly on cars driving along I-295 in South Jersey, causing tires to gel with the road. They quickly realized that a stretch of the highway in Salem County was smeared with liquid asphalt, leaked from a tanker and causing dozens of cars to get ensnared in the sticky stuff. How'd it happen? Condensation got into the tank, causing the asphalt to boil over. Motorists were miffed, but somewhat forgiving because, hey, at least someone was paving the road.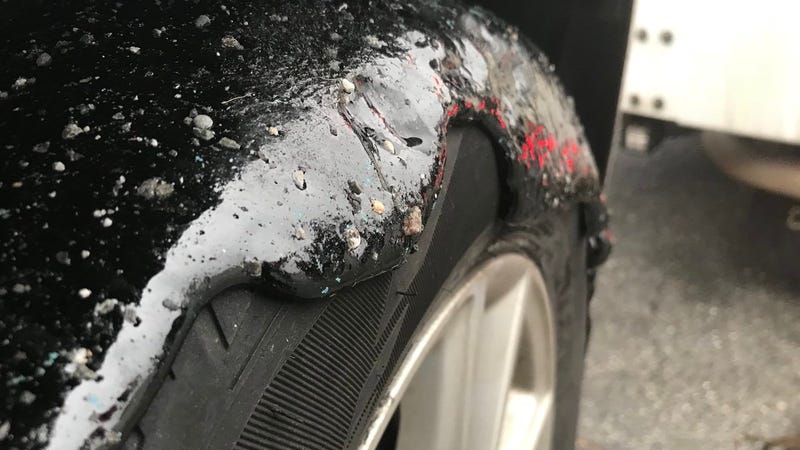 NEWARK - Stand where you will on the issue of immigration, there is no question that America ultimately needs U.S. Immigration and Customs Enforcement (ICE) agents. In the current climate, where these agents are routinely demonized, a student group for unauthorized immigrants and their allies has asked ICE not to have a booth at the upcoming spring career fair at Rutgers-Newark. ICE agreed to step aside, concerned that some students would not participate if the feds were present. Fine; totally get it. But ICE does not set policy; it implements it. Next time, keep members of Congress away from the career fair.
EAST BRUNSWICK - For a long time, local school leaders had planned to station armed officers in district schools. But the Parkland, Fla. tragedy certainly sped things up. With the timing, and the need to fill the 24-hour news hole, the district is at the center of a political firestorm, with some claiming the decision to be "knee-jerk." TAPInto East Brunswick reports the superintendent's office has been bombarded with questions from the local and national media, who have had news vans camped out near school grounds. Hope it's all worth it.
ON THE RAILS - There could be a whole separate news site dedicated to the daily follies of NJ Transit. Bloomberg reports on a federal safety report, showing scores of trains with shoddy brakes, electrical hazards and fire risks. One engine was so bad that it was taken out of service; others had broken equipment that compromised braking and traction - which seem to be important elements of reliable rail transportation. There are 400 pages of reports, Bloomberg notes, talking of budget starvation and routine risks over the years that affect more than 300,000 daily riders who just want to get to work on time and in one piece.
TRENTON - Usually we don't report on clickbait studies by for-profit companies, but WalletHub finally has an unscientific "study" we agree with. According to the latest "study," Trenton is ranked last among the 50 state capitals as a place to live. WalletHub apparently crunched a bunch of numbers, such as household income, unemployment and education, to decipher the livability of these cities. Trenton is joined by Hartford, CT at the bottom; while Austin, TX comes in first. We report this not because this study is accurate, but because we all know Trenton needs plenty of help. Perhaps "studies" like these can encourage change.


IN OTHER IMPORTANT NEWS
DONGGUAN, China - The local transit authority is issuing a public service notice: Please don't crawl through our X-ray machines. That obvious message is required, after a woman refused on Sunday to part with her purse and climbed into the security scanner, UPI reports. As the woman passed along the conveyer belt clutching her bag, security officials laughed in surprise, but later wanted passengers to know that all the radiation exposure may not be worth whatever is in the bag.
THIS DAY IN HISTORY
It was this day in 1997 that George Lucas decided to offer fans something, er, "new," premiering "The Empire Strikes Back - Special Edition."
WORD OF THE DAY
Epigrammatic - [ep-i-gruh-MAT-ik] - adjective
Definition: Terse and ingenious in expression
Example: His is the sort of epigrammatic utterance to which there can be no rejoinder; the clean hit and quick-killing witticism. (Nope, not talking about Donald Trump.)
WEATHER IN A WORD
Flip-flops