OUR TAKE ON THE NEWS IN NEW JERSEY
NORTH JERSEY - There's lots of brain power at work to sidestep the new federal tax law that limits property tax deductions. New York Gov. Andrew Cuomo is talking about lawsuits and eliminating the state income tax, replacing it with a payroll tax. In California, they want to set up a charity, allowing taxpayers to make "donations," rather than pay state taxes. And, in North Jersey, never to be outdone, three towns - Paramus, Park Ridge and Fair Lawn - are now allowing residents to donate the same sum they would have been charged in property taxes to pay for municipal services. Their local congressman is even in on the scheme, with Rep. Josh Gottheimer "declaring that New Jersey won't shy from a fight. We won't be America's piggy bank." Pretty ingenious here. But curious if, and how long, the IRS would let this fly.
PALISADES PARK - You probably didn't know there's a law in New Jersey that requires an actual human being to issue you a parking ticket. So it's unclear how Palisades Park was able to roll out a pilot program with "smart" parking meters that automatically mail you a ticket. Of no surprise, these meters have been magic to the municipal coffers, with just 20 of these meters - nine percent of the town's total - issuing 23 percent of all violations by the end of September, NJ 101.5 reports. Assemblyman John McKeon is calling for some controls - like at least changing the state law that bans these meters. Or, perhaps, at least, sending fines only to out-of-state motorists as a little thanks for visiting New Jersey.
IN THE AIR - Should you be able to guzzle a few beers and then fly a drone? That's what state lawmakers will be debating today in Trenton. Responding to several incidents nationwide that were more than just annoying, our state leaders may slap drunken drone pilots with up to six months in prison and a $1,000 fine. It's unclear how police will attempt to enforce such a law, as many who fly drones are perfectly sober, just really lousy at it.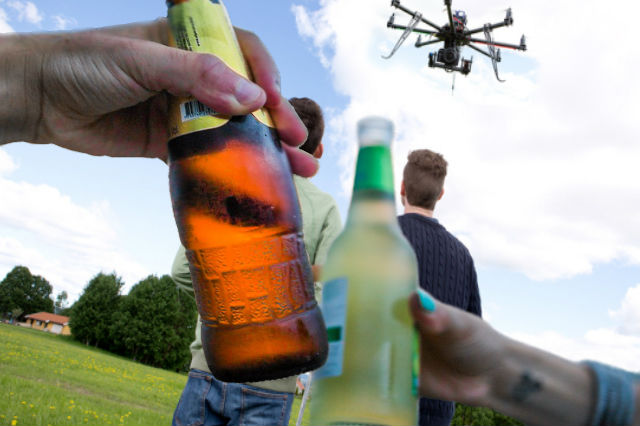 UNION TOWNSHIP - The high school teacher who famously declared on Facebook that homosexuality is a "perverted spirit" that "breeds like cancer" now miraculously still has a teaching career in New Jersey, after a three-year suspension the state imposed last month. The teacher, who was faculty adviser to the Bible study group at Union High School, initially resigned after the 2011 post, but then sued the district for violating free speech and religious rights, NJ.comreports. Here's hoping this teacher is inspired by a career elsewhere during her suspension, as she has clearly become an expensive distraction for a public school.
ON THE WATERS - The Seastreak ferry has been the glorious commute from the Jersey Shore to NYC. But not today, as 15 inches of ice froze ferry service this morning - as captured in the incredible photo below by local blogger Art Gallagher of More Monmouth Musings. The company calls it the worst ice conditions it has ever seen from Atlantic Highlands to Sandy Hook to Staten Island. There's plenty of hope a tug boat can somehow cut through thick ice, helped by warmer Southwest winds, as well as temperatures that may actually rise above freezing for the first time in recent memory. Only five months until Memorial Day.


IN OTHER IMPORTANT NEWS
CLEVELAND - With chants of "Why does God hate us?," about 3,200 Browns fans paraded around their stadium yesterday in sub-zero temperatures, marking the 0-16 season with some outrage, plenty of humor and demands that team owners be drowned in Lake Erie. There were floats, filled with obscenities. There were fans wearing paper bags on their heads, and a Big Bird wearing Johnny Manziel's jersey. A band played John Mellencamp's "Hurts So Good" and a group carried 28 tombstones, marking the team's 28 starting quarterbacks since 1999, for a "no victory" lap.
THIS DAY IN HISTORY
It was this day in 1980 that the NCAA apparently realized that females actually have teams, as well, agreeing to sponsor women's championships in five sports.
WORD OF THE DAY
Mutatis Mutandis - [myoo-TAH-tiss myoo-TAHN-diss] - adverb
Definition: With the necessary changes having been made
Example: Donald Trump tells himself the new tell-all book "Fight and Fury" is a crock of lies sprinkled with a couple of bare half-truths. And not just one passage, but the whole damn thing taken from fake media, only mutatis mutandis."
WEATHER IN A WORD
Warmer!