TOTOWA - We may never know what kind of dead rodent was discovered in this can of iced tea. But it really doesn't matter for a local woman who says she is now plagued with psychiatric and psychological issues after making the gruesome discovery at the bottom of an Arizona iced tea she bought at a local CVS, the Record reports. According to the lawsuit - and, of course, there's a lawsuit - the woman claims she brought it home, guzzled the drink and then sensed the can was still a wee bit heavy. How odd. She then peered through the top and found the little guy. CVS and Arizona have nothing to add at the moment.
CAMDEN - A new bike share program was to serve as a shining example that the city has turned the corner, with the full expectation that a borrowed bike would actually be returned in a city with an historic knack for crime. But two months after the program was unveiled, the company is pulling out. Why? Philly.com says the company is having serious financial problems all over the country and this decision is part of a broader pullout. Camden officials are shocked, as they joined in the initial celebration of the program, TAPInto Camden reports. Here's hoping another vendor pops into Camden, as this pilot program should obviously continue.
POINT PLEASANT - This lawsuit is fishy, but a judge still must decide which amateur fisherman deserves a $70,000 prize for reeling in the bigger shark. The dispute began when a Wayne lawyer's 207-pound mako shark won at a recent Point Pleasant fishing contest. But, a Howell boat captain challenged the lawyer's catch. Length (not just weight) counts in this tourney, so the captain claims he won with a shark that happens to be a few inches longer. Now, the Asbury Park Press says, the lawyer is hauling that captain and contest organizers into Superior Court. It's anyone's guess which fish tale the judge will swallow hook, line and sinker.
PATERSON - Another tax increase or employee layoffs? Those are the tough choices the City Council handed new Mayor Andre Sayegh. Saying that property owners got slapped around with tax increases for seven of the past eight years, the Council told Sayegh to consider painful staff reductions to avoid a looming two-percent tax increase. The Paterson Press says the rookie mayor is looking at a gaping $27 million budget shortfall, but unpopular firings were not among his budget-balancing plans. Now he's got something new to think about.
HO-HO-KUS - An arts dealer thinks he's struck gold at a local storage locker. He plunked down $15,000 for a locker filled with unknown paintings - praying for a gem or two beyond Aunt Martha's sketches of her garden petunias. What he found was dozens of paintings he believes were done by artist Willem de Kooning. The value? Millions of dollars, the NY Postreports. Never heard of de Kooning, you uncultured swine? He was an abstract expressionist from the Netherlands who moved to the United States and died in 1997. And now the art world is clamoring for his pieces.


IN OTHER IMPORTANT NEWS
GILLETTE, Wyo. - Local cops dealt with two chases from the same guy - one in a pickup truck and then in a concrete mixer truck. It all began 11:15 p.m. Wednesday when police tried to stop a pickup truck on the Interstate 90 on-ramp. The Gillette News Record - now with its biggest scoop ever - reports the driver fled at 100 mph and crashed into a ditch. He then ran off to a nearby construction business, where he commandeered the concrete mixer and figured maybe it could just mix in with all the other highway traffic. But it never got to the interstate, as the truck's brakes locked and caught fire. Cops caught up and made the easy arrest, armed with concrete evidence. But is he a hardened criminal?
THIS DAY IN HISTORY
It was this day in 1994 that Mets fans had to endure the longest rain delay in Major League history, at 3 hours, 39 minutes, before watching the team blow the game to the Giants, 4-2, at Shea.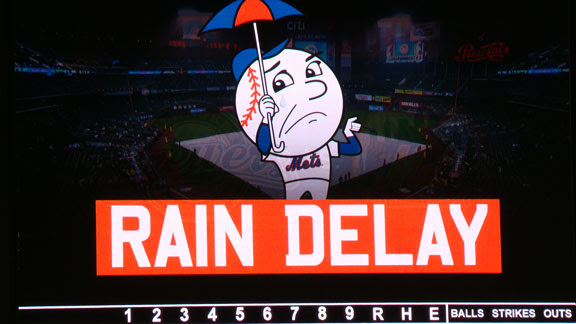 WORD OF THE DAY
Pro rata - [pro-RAY-tə] - adverb
Definition: Proportionately, according to an exactly calculable factor (such as a share or liability)
Example: Jeez, can Mel drink! To be fair, let's pay for the pitcher of beer pro rata.
WEATHER IN A WORD
Transitioning
THE NEW 60
a Jaffe Briefing exclusive
by Andy Landorf & John Colquhoun