STATEWIDE - It's so hot that Vanilla Ice changed his name to just 'Vanilla.' It's so hot that Dick Cheney is waterboarding himself. It's so hot that two trees are fighting over a dog. Yeah, it's hot out there, says the National Weather Service, which has issued a days-long excessive heat watch for Mercer, Burlington, Camden and Gloucester counties - with the heat index forecast to run as high as 110 degrees. Ya think that's hot? NJ Spotlight has the details of a new report on just how hot it could get if global actions aren't taken to reduce greenhouse-gas emissions. It'll be hotter than a Beyonce concert, speaking scientifically, of course.
EAST RUTHERFORD - It seems a little late for this conversation, butnow there is plenty of buzz about mega-traffic that will be created once the $5 billion, 3-million-square-foot mega-mall finally opens in the Meadowlands during the height of football season on Oct. 25. (Giants v. Cowboys on Nov. 4) This hulking mass has been under construction for 16 years, and now people are finally paying attention to the fact it will draw up to 50 million visitors a year, equal to up to 150,000 people a day, NJTV reports. Route 3 is already a clogged mess, with the Secaucus mayor now questioning how the locals can handle the additional flood of vehicles. Well, all had plenty of time to prepare.
TRENTON - If you want something done right, ask a busy woman. That's apparently the mantra of Mercer County voters, who boast having the largest contingent of elected women among New Jersey's 21 counties. Rutgers University released a report showing Mercer County has the most women serving in county and municipal positions. An impressive 41% of all municipal council members in Mercer County are women, compared with a national average of 27%. Meanwhile, the county freeholder board comprises 43% women, while 33% of all Mercer mayors are women. Note there is no mega-mall in Mercer.
FREEHOLD - Can a tantalizing conspiracy theory spark ambitious new research into a cure for Lyme disease? That's what Rep. Chris Smith hopes will happen with an amendment he tacked onto a federal defense spending bill. It requires the Pentagon to investigate a long-held suspicion that Lyme disease is actually a tick-borne "biological weapon" created secretly at a federal research lab between 1950-75 and accidentally or intentionally released into the environment. Smith tells the Asbury Park Press he wants "significant accountability... [Lyme disease] should not be mired in secrecy."
PATERSON - It started as a joke, but, hey, you never know. The Onion,the gloriously satirical news site, posted this fake headline: "82-Year-Old New Jersey Congressman Bill Pascrell Quietly Asks Ilhan Omar If He Can Be Part Of The Squad." In response, the congressman tagged the four House members of "The Squad" with the question "how bout it?" Rep. Alexandria Ocasio-Cortez, a leader in this progressive movement currently consuming House Democrats this summer, replied: "You're in."
IN OTHER IMPORTANT NEWS


CYPRESS, TX - A local family does not appreciate a "chick's boob," which appeared in a family trip that meant to be a tribute to a recently-deceased grandma. The family was enjoying a day at Garner State Park when a smiling photo-bomber whipped out a breast behind the group photo. "[You see her] boob, nipple, everything," a family member complained to KTRK-TV. "We're trying to recreate memories. Having some chick's boob isn't allowing us to do that." The family posted the photo on Facebook, to mixed reaction, and has even filed a police report. Authorities are now trying to find the boob.
THIS DAY IN HISTORY
It was on this day in 1955 that the American family was introduced to the endless line to nowhere, as Disneyland opened in rural Orange County, CA.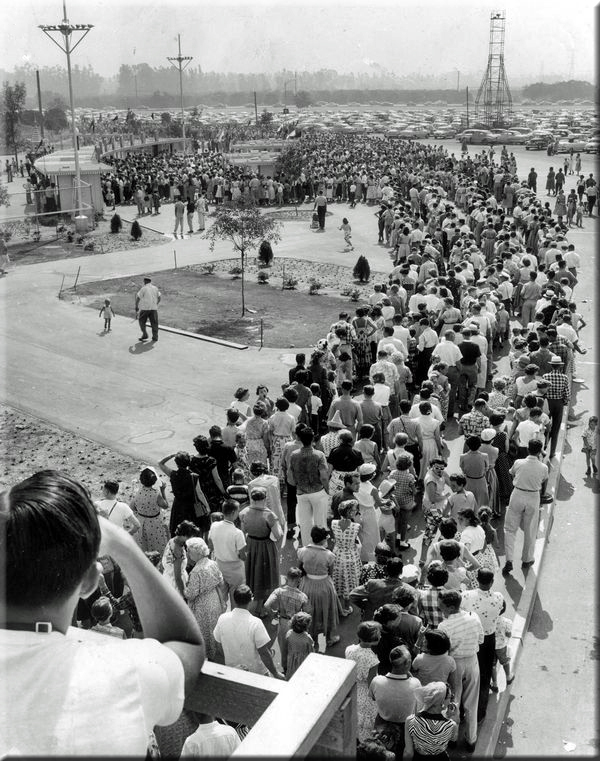 WORD OF THE DAY
Milquetoast [MILK-tohst] - noun
Definition: A person of meek or timid disposition
Example: Mel is such a milquetoast; he gets pushed around by breast-baring photobombers.
WIT OF THE DAY
"Only a mind free of impediment is capable of grasping the chaotic beauty of the world. This is our greatest asset."

- Oliver Bowden
WEATHER IN A WORD
Sticky
THE NEW 60
A Jaffe Briefing Exclusive
by Andy Landorf & John Colquhoun