DOWN THE SHORE - If you see all those mega-mansions on the beach, and admit to being just a wee bit jealous, here's something to quietly smile about: All of those glorious homes will likely be underwater. NJ Spotlight reports rising sea levels make the New Jersey coast particularly vulnerable, with the Garden State ranking second to Florida with the biggest chronic risk of flooding. The non-profit Union of Concerned Scientists says the coastal real estate market will take a hit over the next three decades. By the end of the century, there would be 251,000 waterfront homes in New Jersey at risk for "chronic inundation," assuming sea level rises 7.3 feet by 2100. Good news for people in Freehold, who suddenly will be living on the beach.
ON THE ROAD - As if New Jersey didn't have enough bad drivers, a former Motor Vehicle Commission clerk was taking $700-a-pop to hand out commercial driver's licenses to drivers who never actually passed mandatory tests. The 39-year-old Ridgewood man, a former clerk at the Lodi MVC, was sentenced on Friday to seven years in prison for falsifying driving records and taking bribes from more than 200 people desperate to drive school buses, haul hazardous materials, and operate heavy equipment. Attorney General Gurbir Grewal tells The Record that state investigators also charged 69 co-conspirators and customers in the scheme.
PATERSON - Hell-bent on being nothing like his predecessor Joey Torres, Mayor-elect Andre Sayegh has tasked a humongous transition team with drafting a blueprint for Silk City's future. Among its 120 members are a few powerful North Jersey lawyers; law enforcement pros like Newark police director Anthony Ambrose; New Brunswick's revitalization chief architect Chris Paladino; a freeholder or two, and other elected officials including some of Sayegh's political adversaries. Sayegh tells the Paterson Press: "They're going to produce a real report. I want to hit the ground running." He takes office July 1, all eyes seeking change.
DOWN THE SHORE - Sometimes, its just too hot to sit on the beach. So, take a break this summer and check out the Axelrod Performing Arts Center, just a few minutes from Asbury Park and Long Branch in the town of Deal. This family-friendly theater finished a performance of a highly-physical "Newsies" yesterday, and then moves on to "High School Musical," "HAIR in Concert," and "A Midsummer Night's Dream." And that's all before Labor Day. But what if you don't like theater? A darkened, climate-controlled theater is always a nice place to nurse a sunburn.
STATEWIDE - And, speaking of heat, it's darn hot out here. And that is why some schools in New Jersey are having early dismissals to give the little cherubs a break from stifling classrooms. Great news for the kids, terrible news for parents who are trying to earn a living in places like Camden, Wayne, Bloomfield and Old Bridge and now have to scramble to get the little ones picked up early. How is it, with all the taxes we pay, that so many schools in New Jersey still don't have air conditioners? C'mon. Here's the updated list.
IN OTHER IMPORTANT NEWS
SYDNEY - There's only a couple of weeks to join 11,000 Australians to strip for a photographer, who is hoping his art will be the centerpiece of the Chapel Street Provocaré arts festival on July 9. The plan is to use a suburban rooftop carpark, owned by a national supermarket chain. Originally, the company said "no way" to this mass stunt, figuring it would be a remarkable inconvenience for customers. But then - realizing this is all marketing gold - is suddenly happy to welcome the assemblage of naked limbs and other body parts. Many au naturel volunteers are travelling thousands of miles for a chance to take part, Reutersreports. Sunscreen vendors welcome.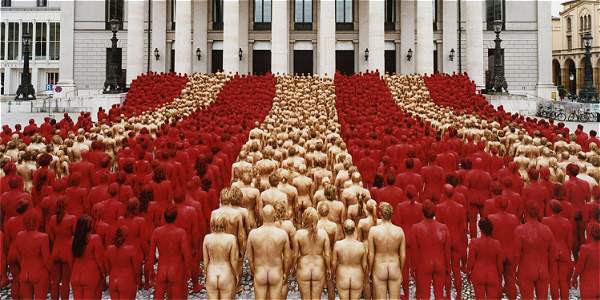 MONTPELIER, VT - Talk about tough love. Sen. Bernie Sanders is refusing to endorse his own son for a New Hampshire congressional seat. That's raising eyebrows among Democrats in the neighboring New England states. While Levi Sanders shares his dad's ultra-liberal views, he has struggled to raise contributions and get traction in a field of 11 Democrats seeking their party's nomination in September primary. Bernie Sanders tells the Union-Leader that he's proud of his son, but doesn't like "dynastic politics," so Levi "is on his own." Bet it was an awkward Father's Day barbecue at the Sanders house.
THIS DAY IN HISTORY
It was this day in 1994 that the "Gay Games" are launched in New York. All teams want Lamar for the javelin.
WORD OF THE DAY
Jabberwocky - [JAB-ər-wah-kee] - noun
Definition: Meaningless speech or writing
Example: When the politician walks into a room, all jabberwocky ceases
WEATHER IN A WORD
Scorching
THE NEW 60