STATEWIDE – It's been another weekend of yelling at those damn referees,whether on a high school, college or pro football field. So, yeah, they are all blind, deaf, asleep and have zero clue of the rules of the game. But let's forget all that today, for this fleeting moment, as we kick off the beginning of the state's first-ever "Officials' Appreciation Week," courtesy of student ambassadors with the New Jersey State Interscholastic Athletic Association. So, maybe it is a ideal time to buy them the perfect eyeglasses, hearing aids and a strong cup of joe to keep them awake throughout the entire game. And maybe, just maybe, extend a hand and say "Thank You" for dealing with all our abuse and other nonsense throughout this very long season.
STATEWIDE – As no one knows, or likely cares, that Wednesday is "National Boss Day," a survey it out that shows nearly half of us would quit our jobs because of that drooling clown who flounders all day in the corner office. A staffing firm called Robert Half says the millennials have the least amount of patience with this guy or girl, with 54% saying they would be happy to quit if they can't stand the boss. Older employees seem more tolerant of fools, with 49% of those ages 35-54 vowing to split. Older employees, who are probably worried about an impending future as a Walmart greeter, have the most tolerance, with 41% saying they fled the job because of a dumb manager.
ON THE CAMPAIGN TRAIL – The dreams of having a New Jerseyan in the White House seem a little dim these days. Yes, Sen. Cory Booker will be taking the debate stage tomorrow with the leading Presidential hopefuls for the fourth official debate. While he does well in the debates, and even gets the honor of being consistently parodied on Saturday Night Live, Booker's poll numbers are very low, hovering around 1.3%. Still, Booker was able to raise a not-too-shabby $6 million, yet contenders like Sen. Bernie Sanders, with a heart attack and all, have raked in $25.3 million. No matter the polls, Booker doesn't seem to being going anywhere soon, as he has also qualified for the fifth debate, scheduled for Nov. 20 in Georgia. Good news for SNL regular Chris Redd.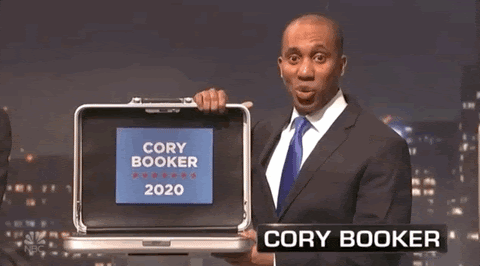 POINT PLEASANT BEACH – It's a slimy business, but it's oozing success for two guys who turned making "toy slime" in an attic into a multi-million dollar business. Jeff Osnato and Ross Alber – known as the "Compound Kings" – started out just a few years ago, whipping up yucky goop in the attic of Osnato's Cranford home. Now, he tells News 12 NJ their "We Cool" slime company has 50 employees with facilities here and in Hong Kong. And, their colorful toy slime gets churned in vats "the size of dump trucks … that's how much we mix at one time." Pour it on.
EDISON – Skee-Ball isn't just a boardwalk arcade game. Diehard players say it's a sport and their new "world champion" is Elan Footerman, a 21-year-old from Edison. He rolled his way to No. 1 at the National Skee-Ball League (NSBL) championships in (where else?) a Brooklyn N.Y, bar, defeating 17 top-seed players from as far away as Germany. In qualifying tourneys, Footerman – known on the circuit as the "Skee-Ball Kid" – won purses totaling $15,000. The Home News Tribune says the mechanical engineering college student racked up another $10,000 for his championship win. Beats the heck out of winning a "medium-sized" stuffed dolphin in Seaside.


IN OTHER IMPORTANT NEWS
SPRINGFIELD, MO – "Is this your turd?" Local residents may be awakening to these signs on their front lawns, as city officials are going the extra length to deal with unscooped dog droppings. So, when some dog poop is discovered in the downtown, workers are now planting little signs right at the scene of the crime in Springfield. Why? Every couple of weeks, there's about 25 pounds of pet waste that gets picked up. In an average year, that's costing about $7,500 in public resources, KOLR-TV reports. The signs read: "Is this your turd? Cuz that's absurd." There were also two other slogans as runner ups: "Drop in the trash, not in the grass," and our personal favorite: "This is a nudge to pick up the fudge." Hey. Do your duty.
THIS DAY IN HISTORY
Some companies offer free coffee as a perk. Others will pay to freeze your eggs so you don't have to rush off to motherhood. It was this day in 2014 that Apple and Facebook announced the egg-freezing program as part of the companies' insurance plans; the companies see the offering as a way to help career-minded women focused on their jobs.
WORD OF THE DAY
Univocal – [yoo-NIV-ə-kəl] – adjective
Definition: Unambiguous
Example: Let me send a univocal message: I can't wait to trick or treat.
TODAY'S TRUMPISM
"I would give myself an A+."
- Donald J. Trump
WIT OF THE DAY
"Every man has his follies—and often they are the most interesting thing he has got."
― Josh Billings
WEATHER IN A WORD
Bright
THE NEW 60
A Jaffe Briefing Exclusive
by Andy Landorf & John Colquhoun