The Jaffe Briefing will be on hiatus for the remainder of the decade. We return Monday, Jan. 6, 2020 - Happy New Year to all!
MICKLETON – Check out the big, bright re-creation of Clark Griswold's house from "National Lampoon's Christmas Vacation." If you happen to live anywhere near Mickleton (and have any ideas where that is), you can join carloads of onlookers to this tiny Gloucester County town each night. Homeowner Steve Harbaugh's homage to the 1989 comedy uses 7,500 twinkling lights. There's a Clark Griswold mannequin dangling perilously off his roof and an animatronic Cousin Eddie standing near a battered motor home in his driveway. CBS News says Harbaugh asks that visitors help fill up the RV with children's toys for Toys For Tots and Kelly's Kidz, a local charity. The goal of all of this? To collect 6,000 holiday toys and give you a great chuckle.
TRENTON – All those half-filled paint cans you've been collecting in the basement? Get ready to toss 'em at a convenient location near you. All those receptacles of ancient enamel, latex, flat, emulsion and gloss you've been hoarding for that right (wrong) paint job? Time to set them free. The Assembly has advanced a plan that would boost the reuse and recycling of unwanted paint via an expanded collection program funded by a fee charged on every paint can. The measure also envisages paint producers or their representatives, developing and implementing a stewardship plan that promotes the program. Get the picture at NJ Spotlight.
AT WORK - When workers return after the holiday break in the new year, they may notice some remnants of 2019. Perhaps they will see overflowing garbage cans, restrooms that can't spare a square, and holiday parties that were never cleaned up. That's because thousands of workers who clean office buildings throughout the state are threatening to strike if they can't get a new deal inked by Dec. 31, Politico reports. Their union has been at the table with commercial building owners and cleaning contractors since October. If they can't figure this thing out, assume more than 500 buildings in the state (as well as several PATH stations) could be untouched in the new year. Some things you take for granted. Cleaning crews should not be one of them.
PLEASANTVILLE – And – boom – a school principal's career is over. The principal of Pleasantville High School is now behind bars, admitting to possessing child porn on his district-issued laptop. Unclear what this 50-year-old Absecon man was thinking, and we dare not offer theories. But after pleading guilty to all of this, as well as possessing an assault firearm, his career in education is over, NJ.com reports. When he finally gets out of the clink, at some point, he will no longer have teaching and principal's licenses. Cops seized 10 devices in his house; the school principal thought it was perfectly fine to share his smut online, it seemed. Here's another career in public service – and certainly not the last – to be flushed away.
BRIEFING BREATHER: Barcode scanners read the white bars, not the black ones.
PATERSON – Cops found something more 'fowl' than illegal drugs during a narcotics sweep at a Sixth Street warehouse: 84 malnourished roosters and hens apparently being bred and trained for cockfights. They also found illegal steroids, training devices and rooster decoys used to aggravate birds before fights. The city's chief animal control officer tells the Paterson Press that some birds ran loose, others were in filthy stacked cages with no food and frozen water: "I've been here 45 years, I've seen a lot, but nothing like this." The birds were taken for care to St. Hubert's Animal Welfare Center in Madison while police still search for the people running the cockfights.


AT WORK – Grousing about your stingy boss this holiday season? At least you can say s/he offers standardized office toilets. There are new office toilets out there, courtesy of some sinister company in the UK, that have a 13-degree slope, making it uncomfortable to sit on the loo for more than just a few minutes. The toilet is intentionally designed to create leg pain, keeping your business down to the less than five minutes, Wired reports. "Thirteen degrees is not too inconvenient, but you'd soon want to get off the seat quite quickly," the inventor explains.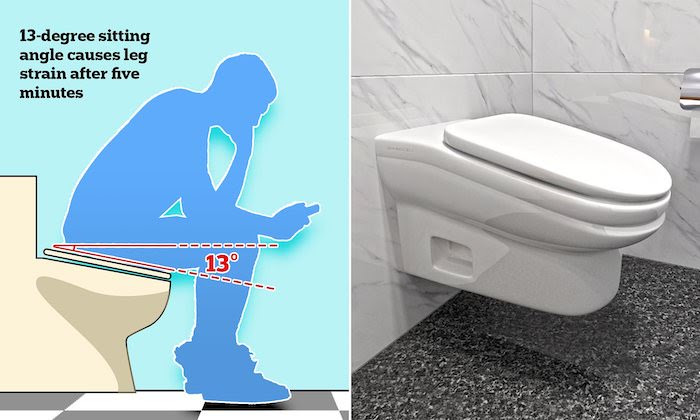 IN OTHER IMPORTANT NEWS
PALMETTO, FL. – Thirty students were evacuated from a Florida school bus in what was deemed as a "hazardous materials" incident. Half of the students from Buffalo Creek Middle School were treated on the scene for mild respiratory irritation after smelling a "strong odor." All were transported to a nearby high school to be picked up by their families. The odor? Axe Body Spray, which one bus rider had apparently sprayed liberally. "They must have watched a lot of episodes of 'Band of Brothers' because they would not say who did it," one police official told NBC. Footage from the bus's cameras will be reviewed and further interviews will be conducted. Local police do not recall the last time there was an Axe Body Spray evacuation in Palmetto.
BURLINGTON, VT – It's been a tough week for the fuzz in this college town, with three top cops making news in one day. The police chief, then the deputy chief were forced to resign after each confessed to using fake social media identities to heckle a local gadfly. Mayor Miro Weinberger tells the Burlington Free-Press their behavior "constitutes a lapse in judgment," saying he picked an interim police chief only after the new guy "confirmed explicitly" he'd never done it. The mayor is also drafting a no-nonsense policy to stop this from happening again.
THIS DAY IN HISTORY
It was one year ago today that a poacher in the Ozarks was ordered to repeatedly watch the movie "Bambi" as part of his sentence for illegally killing hundreds of trophy deer. He watched the 70-minute cartoon once every month during his year-long jail sentence, the Springfield News-Leader reports. Lawrence County Judge Robert George decreed the convict must "view the first viewing on or before December 23, 2018, and at least one such viewing each month thereafter." Poor little Thumper.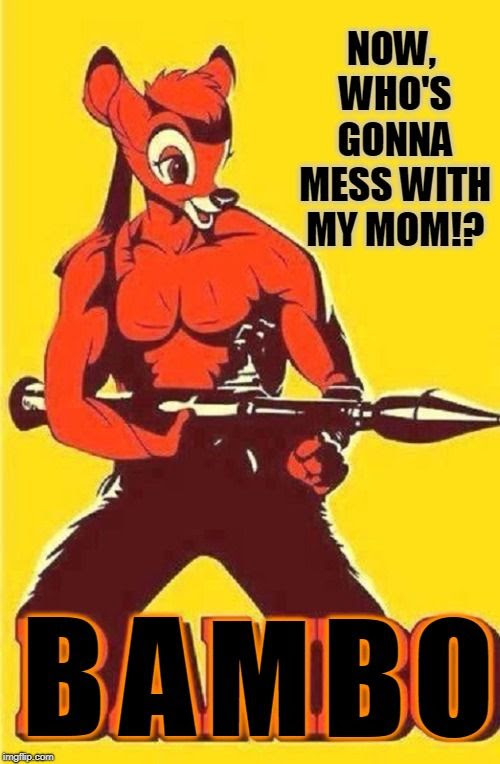 WORD OF THE DAY
Nidus – [NYE-dəs] – noun
Definition: A place where something originates, develops, or is located
Example: My mind has long been a nidus of little-known words.
WIT OF THE DAY
"To all the girls who think you are fat because you're not a size zero, you're the beautiful one. It's society who is ugly."
― Marilyn Monroe
TODAY'S TRUMPISM
"While @BetteMidler is an extremely unattractive woman, I refuse to say that because I always insist on being politically correct."
- Donald J. Trump
WEATHER IN A WORD
Frigid
THE NEW 60
A Jaffe Briefing Exclusive
by Andy Landorf & John Colquhoun