CRANFORD - In all likelihood, you've heard him thousands of times - on the radio telling you about the inbound delay, or on the platform informing you the express train is a minute away. Well, did you know Bernie Wagenblast, "the Voice," is a Cranford native? Naturally, his next stop was just down the street at our Jaffe Podcast studio for a conversation about his fascinating career and his new, weekly, super-local Cranford Radio. Click here to listen, and please - watch the gap when boarding the podcast.
TRENTON - Feel free to lease a Ford Fiesta, but don't lease a Fido. State lawmakers are considering a ban on this odd new trend, in which people are leasing their pets, rather than owning them. So, for a dollar down and a low payment each month, you too can be walking a new poodle? Nah, doesn't make sense, as animals are not objects. And what happens if you can't make the monthly payments? The repo guy knocks on your door and demands Fido? So weird, but some pet stores are going this route to move the merchandise and get puppy-eyed people to sign here, and sign there. And when the puppy grows into a dog, and then that dog pees on the rug, people can just give Fido back? And what happens then? No, no no. Assemblyman Kevin Rooney tells NJ 101.5 the bill is as much as protecting animals as consumers. Here's hoping New Jersey follows New York and California to ban the latest sales gimmick.
ELSEWHERE - You may shed tears to learn that millionaires are running away from New Jersey more than ever. The latest data from New York-based Wealth-X says 5,700 dripping-rich Jerseyans - each with a net worth of up to $30 million - fled last year to such tax-friendly places like Florida, Arizona or the Carolinas. It's not because mansions in Upper Saddle River or Short Hills aren't splashy enough. Nope. Experts tell The Record that state and federal tax changes are largely to blame for the Richie Rich exodus. That means more of a tax burden on the rest of us poor slobs, who will have to make up the difference, like usual. But at least we may get great deals on gently-used Maseratis at yard sales.
WOODBRIDGE - There are many levels of hell. To drop to the lowest, you could rob the Pope, or perhaps lift your mom's purse on her deathbed. But to get to the absolute bottom? No doubt, you have the be the culprit who stole $1,000 in Girl Scout cookie money at the Woodbridge Center mall on Friday. People are aghast on social media, claiming Girl Scout Troop 80062 was blindsided and robbed between 4:20 p.m. and 4:50 p.m. Friday from the Girl Scout's cookie sales table in the Boscov's department store wing. There was $500 cash and several checks, say local police, who would absolutely love to nail the guy who did this. One Girl Scout mom summed it up for NJ.com: "What is wrong with people?"

TRENTON - Local outlaws rejoice! The state Supreme Court is dismissing all of nearly 790,000 outstanding municipal cases and warrants for minor offenses sitting around for more than 16 years. A recent report recommended their speedy dismissal as Job One for improving the municipal courts. So, no, New Jersey's top court hasn't gone soft. It's just trying to make things fairer. Supreme Court Chief Justice Stuart Rabner says the backlog of cases has raised questions about "the appropriate use of limited public resources by law enforcement and the courts, the ability of the state to prosecute cases successfully in light of how long matters have been pending and the availability of witnesses, and administrative efficiency." So, are you in the clear? Check to see if an old case or warrant of yours has been wiped clean by checking a database the state Administrative Office of the Courts has set up. NJ Spotlight did a random search of the database and found cases dating back more than 25 years for such dastardly deeds as violating overnight parking rules, failing to shovel snow from a sidewalk, and allowing a dog to run "at large."
PATERSON - City employees may get little sympathy from federal workers who have been off the job now for 32 days. But, still, bitter choices face city workers, as Mayor Andre Sayegh struggles to close a $7 million gap. The mayor wants workers to swallow a two-week "pay deferral" or undertake sizable layoffs. Officials tell the Paterson Press a one-day delay of the next 10 city-issued paychecks could save $4 million, just enough to spare jobs. Layoff warnings come as Paterson is trying to hire new police officers to replace 24 retiring cops and possibly a few dozen more who are eligible to go. Some advice: Don't mention "pay delays" as a perk on recruitment posters.


TOMS RIVER - School supporters are bringing out the big sluggers to encourage supporters to vote "Yes" in today's $147 million school bond referendum that would improve all 18 district school buildings. In likely the first-ever celebrity appearance for a local bond vote, a school board meeting featured New York Mets' third basemen Todd Frazier, a proud product of the local schools. Frazier - whose two brothers are gym teachers in the district - focused his talk on the need for better sports facilities, the Asbury Park Press reports, for Toms River "to get back to where we need to be in New Jersey." Fair enough, but local crumungeons note the local facilities seemed to do perfectly fine for him. Polls are open until 8 p.m. Hit this one out of the park.
IN OTHER IMPORTANT NEWS
CROSSE, WI - At just 11 years old, he is already the self-proclaimed king of crocheting. This prodigy, with his yarns and needles, is not only the envy of his sixth-grade class at Lincoln Middle School, but of crochet fans all over the world who send him fan letters. (Yes, really) There's not a day that goes by when Jonah Larson doesn't find a ball of yarn in his mailbox from an adoring fan. Jonah did his first cross-stitch at just 5 years old, creating a killer dish cloth, and can now stitch an elaborate blanket in just eight hours. Hundred of his creations have been sold, from dog sweaters to afghans to shawls, as hordes clamor for his online tutorials on Instagram.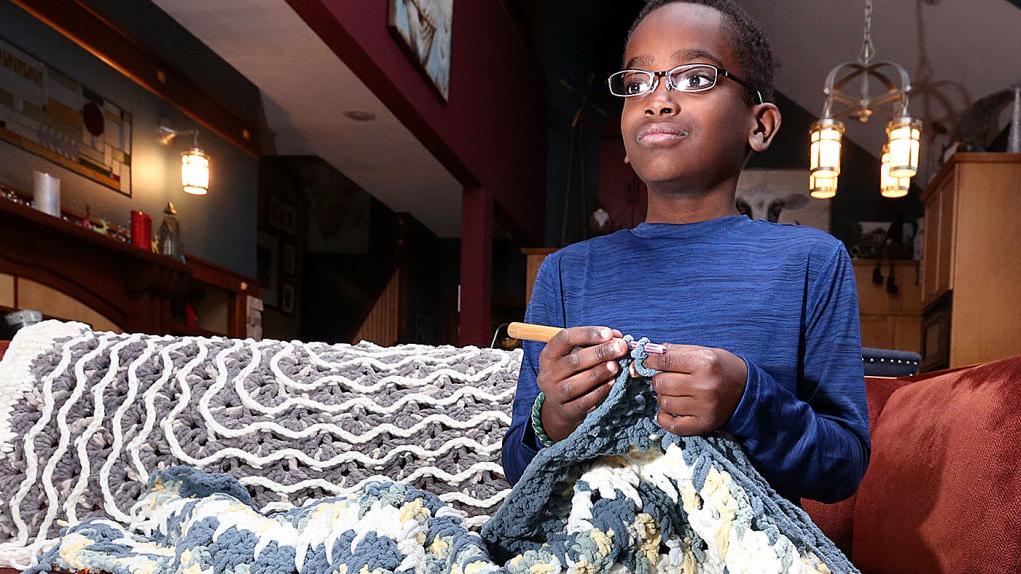 THIS DAY IN HISTORY
It was this day in 1879 that James Shields became a U.S. Senator from Missouri. OK, that is not particularly interesting. But he was previously elected as a senator from Illinois and Minnesota - becoming the first and only politician to somehow serve in the U.S. Senate from three states.
WORD OF THE DAY
Corpulent - [COR-pyə-lənt] - adjective
Definition: Obese; excessively fat
Example: With all this frigid weather, I'm sitting in front of the TV, raiding the snack drawer, guzzling beverages and getting delightfully corpulent.
WIT OF THE DAY
"Folks, I don't trust children. They are here to replace us."

- Stephen Colbert



WEATHER IN A WORD
Frigid
THE NEW 60
A Jaffe Briefing exclusive
by Andy Landorf & John Colquhoun