WILDWOOD – Ever hear of Lara Trump? Nah, us neither. But after some brief Googling, it's been learned that she is the wife of the president's son, Eric. So that makes her (a.) ridiculously rich, (b.) richly Republican and (c.) knowledgeable about all things Trump. As one of the surrogates on the campaign trail, she is telling South Jersey media that there are now 175,000 requests from people who want to attend the President's rally tonight, making the 7,500 seat convention center even more woefully inadequate than when 100,000 supporters were apparently making requests a week ago. Lara claims there will be another rally in the area, at some point, to help feed the South Jersey masses who we are led to believe are salivating for Trump. Maybe she'll even get a seat tonight – if Tiffany has theater tickets.
WILDWOOD – When newly-minted GOP Congressman Jeff Van Drew (R-2nd Dist.) takes the stage later today, and receives a burst of rabid applause from the MAGA-World packed into the Wildwoods Convention Center, there's a group of constituents who will decidedly be miles away: his former Democratic backers. The Philadelphia Inquirerinterviewed a bunch of ticked-off Democrats who attended Van Drew fundraisers at the end of last year, plunking down up to $2,800 to learn how their congressman plans to fight President Trump's re-election bid in 2020. Well, what a difference a few months makes. Van Drew his now flying around on Air Force One, enjoying his fleeting bromance with a guy who changes loyalties more often than his hair color. Meanwhile, Democratic donors are calling Van Drew a turncoat, likening him to infamous traitor Gen. Benedict Arnold, and demanding full refunds. There are even threats of lawsuits. In response, Van Drew texted this response, "A lot of people are saying wonderful nice things." True, but the question remains how many of them vote in the Second Congressional District.
WILDWOOD – The circus surrounding the President's visit today will feature rallies involving 30 or so opposition groups. Besides the four Democratic candidates competing with each other to unseat Van Drew this November, the list of keynote speakers will now include Martin Luther King III. It looks like about six hours of good ol' protesting will begin at 3 p.m. at East Bennett and Ocean avenues. But the real hard-core protesters don't hit center stage until about 4:30 p.m. There promises to be plenty of references to racism, bigotry, misogyny, violence, and corruption, as the national news cameras roll. Meanwhile, local bars will be serving such drink specials as "Subpoena Colada" and "Moscow Mueller," while local residents take in the entire spectacle and curse the fact there was no blizzard that cancelled this thing.
BRIEFING BREATHER: Kramer barged through Seinfeld's door 284 times over an eight-year span.
WILDWOOD – The last time a sitting U.S. President showed up here was 1890 – long before CNN would breathlessly track every move. In fact, Benjamin Harrison took a leisurely carriage ride over from Cape May on May 30, 1890 with a simple mission: to dedicate the now long-gone Hotel Dayton. There was no giant rally covered globally on news networks and social media. There was no throng of sycophants or protesters thirsting to promote their own agendas. There were no stringent security measures with beefy cops and metal detectors. Old news clippings say locals were just glad to get a glimpse of the 23rd President and shake his hand. Like Trump, Harrison was a Republican. And, like Trump, his "summer White House" was in New Jersey, at Cape May's Congress Hall. Yet, Harrison and his wife, Caroline, often strolled unmolested to nearby shops or the beach, and took carriage rides throughout the area without causing a worldwide stir. Somehow, over the past 130 years, sanity was lost.
TOMS RIVER – Hey, it's not funny to suggest the best way to find New Jersey's best donut shop is to see where the most police cars are parked. That would be wildly stereotypical, improper and just plain wrong. We won't do it since The Daily Meal has already chosen Uncle Dood's Donuts as the Garden State's best donut shop for 2020. This foodie website "took a deep dive" into reviews, online ratings and articles to find each state's "universally beloved" donut makers. Our state's best happens to be a busy little shop on Robbins Street in downtown Toms River. Its menu includes chocolate donuts called "Death By It" and "Werewolf Fudge." Among its seasonal varieties are ones topped with crushed Fruit Loops. Don't worry; cops will keep the customer line nice and orderly.


TRENTON – Bi-partisan legislation is in the works that would make New Jersey the first state to legalize betting on "e-sports," online tournaments of League of Legends and similar video games. Right, these are the same games our kids waste time with in middle school — instead of using their laptops to learn something or interact face-to-face. It's not clear how much money e-sports could add to the $3.8 billion wagered online in 2019, but it could ultimately be a good chunk of change. The state Division of Gaming Enforcement is already making noises about banning betting on high school tournaments, or ones where most participants are underage. That's good, but won't this law just encourage kids to spend even more time gaming — with hopes of turning pro when they graduate from high school? NJ Spotlight reports on this possible boost in gambling.
IN OTHER IMPORTANT NEWS
PAOLA, Kan. – Assume divorce isn't going so well for a local man, who is pleading with a judge to allow him to settle matters via a sword fight with this ex-wife and her attorney. The 40-year-old man claims in court papers that he has been destroyed and has no other option than to ask the Iowa District Court to grant him 12 weeks to secure katana and wakizashi swords for his requested battle, the Des Moines Register reports. "To this day, trial by combat has never been explicitly banned or restricted as a right in these United States," he argues in court papers, noting it was used as recently as 1818 through the British courts. He concludes that a sword fight would be the only real resolution to issues of custody and visitation rights, as well as property tax payments. Attorneys for the other side acknowledge the U.S. and Iowa constitutions do not specifically prohibit battling another person with a deadly katana sword, and that the possibility of death outweighs the ramifications of traditional divorce disputes. Judge Craig Dreismeier is currently considering both sides' motions and responses.
THIS DAY IN HISTORY
It was this day in 1878 that the first college newspaper was hot off the press; The Yale News publishes its very first daily issue.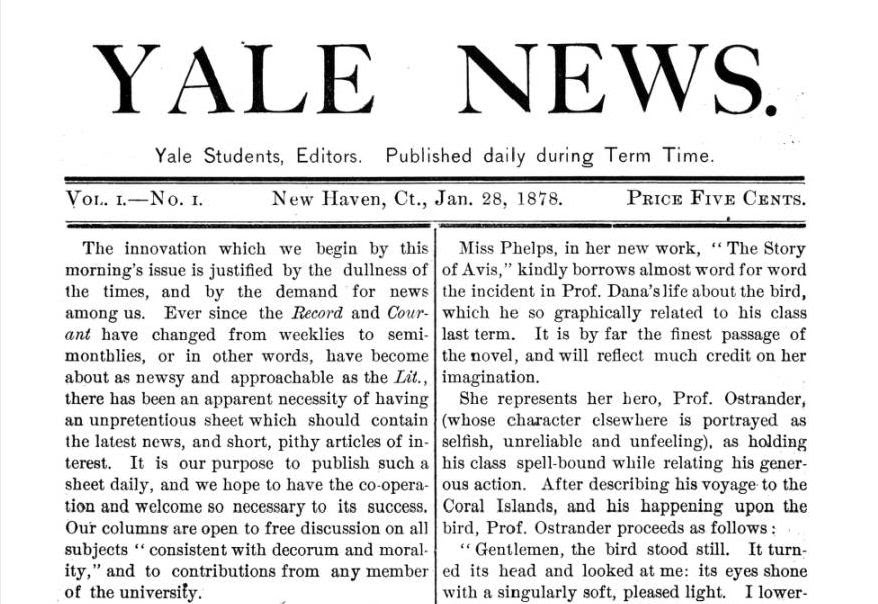 WORD OF THE DAY
Parvenu – [PAHR-və-noo] – noun
Definition: One that has recently or suddenly risen to an unaccustomed position of wealth or power and has not yet gained the prestige, dignity, or manner associated with it.
Example: In the 1980s, one had to ponder: Would the DeLorean be the next parvenu in the luxury car market?
WIT OF THE DAY
"You must pursue this investigation of Watergate even if it leads to the president. I'm innocent. You've got to believe I'm innocent. If you don't, take my job."
― Richard Nixon
TODAY'S TRUMPISM
"Crazy Nancy Pelosi should spend more time in her her [sic] decaying city and less time on the Impeachment Hoax!"
- Donald J. Trump
WEATHER IN A WORD
Ho-hum
THE NEW 60
A Jaffe Briefing Exclusive
by Andy Landorf & John Colquhoun