ON THE ROADS - It's as common in New Jersey as a bagel with schmear: Those annoying $50 fines for E-ZPass violations. But while it has been super EZ for the New Jersey Turnpike Authority to slap on these fees, an appellate court is now wondering if the charges are excessive, NJ 101.5 reports. There is a proposed class-action lawsuit, as ticked-off motorists are demanding that the Authority show evidence that it needs to charge that amount. It's against state law for the Turnpike to profit from violation fees; these charges are simply supposed to reimburse the Authority for processing violation notices and mailing them out. Lawyers argue if the total fines were to be divided by all 10 million annual violations, including those motorists who never pay, each fine would be $3.41. So, where's the rest going?
SUSSEX COUNTY - If Sussex County could secede from New Jersey, it would happily annex to Alabama or some other red state. Republican locals tried to get a special ballot question on immigration, directing the county sheriff to ignore Attorney General Gurbir S. Grewal's efforts to limit voluntary assistance for federal immigration authorities, NJ.com reports. Grewal argued such a ballot question would run afoul of state law and told Sussex officials to disallow it. The question, fueled by the all-Republican freeholder board, would have appeared on the November ballot. Sussex County officials are now fuming, as they remain glued to the immigration battles unfurling on Fox News.
OFF THE RAILS - The official worst phrase heard by a NJ Transit commuter: "engineer availability." The beleaguered rail agency just can't seem to find enough people to drive its trains this summer. It was another difficult weekend, with dozens of trains cancelled. Fourteen were no-shows on Saturday; and a bunch more were no where to be found on Sunday. NJ Transit is vowing "to make improvements," a phrase about as tired as "engineer availability." Meanwhile, a camel-for-hire may be a more reliable way this summer for your return trip from NYC.
LAKEWOOD - In the highly competitive world of minor league baseball - where any and all gimmicks are attempted to get fannies in the seats - the last-place Lakewood BlueClaws struck gold Saturday night. Now, everyone is talking about the game. Or, more like the end of it, when the fireworks display sparked a brush fire behind the center field fence, NJ 101.5 reports. Luckily, firefighters were on hand, as well as the fire marshal and a fire truck, so the blaze was knocked down and no one was injured. But, hey, what a way to make some baseball memories. The next home game is July 23 vs. the Charleston Riverdogs. C'mon down! You'll never know what may happen.
IN THE MEDIA
STATEWIDE - What's the latest with that proposed state-funded media consortium to restore some of our local media coverage? Stalled in Trenton, NJ Spotlight reports. Last year, lawmakers approved a $5 million appropriation to create the New Jersey Civic Information Consortium, designed to fill the void of disappearing local media. The money was never earmarked because, lo and behold, it was already spent elsewhere. This year, the consortium was approved for $1 million in funding. But now, that money is caught up by Gov. Phil Murphy, with apparent concerns about revenues and scant budget reserves. Whatever excuse is real or not, it all shows the current state leadership has little fear of backlash from the state's media corps. Also, what can $1 million really do?


PATERSON - The Paterson Press continues to show that there are plenty of solid news stories if you happen to know how to read a municipal budget. It is reporting the city spent $4.6 million in overtime last year, an increase of nearly 40 percent than the previous year. The overtime tab for the fiscal year that ended June 30 - Andre Sayegh's first as mayor - was the city's highest since 2015. The mayor explains all the OT as part of his "fiscal strategy," noting some vacant positions were eliminated and some hiring decisions postponed. "Consequently, we understood that overtime would increase in order for the city to cover basic services," he explains. Good reporters find the stuff that no one wants to explain.
IN OTHER IMPORTANT NEWS
JOCNSUU, FINLAND - One may contend that heavy metal music has absolutely nothing to do with knitting, but that person obviously didn't witness the annual Heavy Metal Knitting Championships last week. Competitors from all over, including the United States, Japan, Denmark, Latvia and Russia converged on this Finnish town to join heavy metal band Maniac Abductor on stage to simultaneously show off their dance moves and knitting skills. In heavy metal knitting, the knitter becomes a part of the band, showing their best needlework tricks as the heavy riffs echo in the background. The big winner? A Japanese competitor known as Giga Body Metal, who was accompanied by a pair of sumo wrestlers. See ya next year.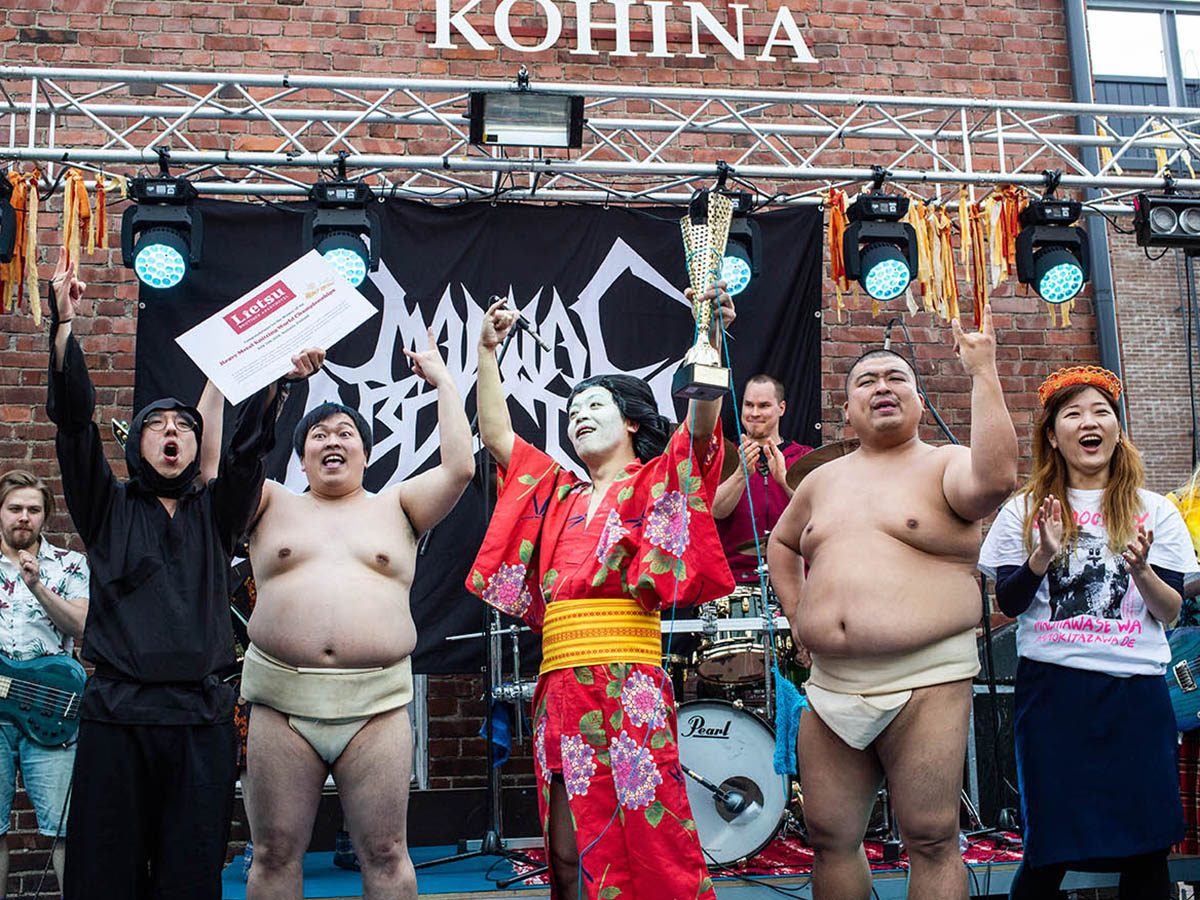 THIS DAY IN HISTORY
It was this day in 2016 that a Carlisle, Pa. man was charged with spraying the embalming fluid from his pet brain on marijuana to enhance the buzz. The man was charged with abusing a corpse, after his aunt found the brain stuffed in a department store bag under a porch while cleaning out a trailer. It appears to have been stolen from a school and, apparently, all that formaldehyde-soaked pot makes for a super-duper high. Court papers note the guy named the brain, "Freddy."
WORD OF THE DAY
Annus mirabilis [ANN-əs mə-RAB-ə-ləs] - noun
Definition: A remarkable, memorable, notable year
Example: It has been an annus mirabilis for Little Susie, as the beautiful summer weather has sent lemonade profits through the roof.
WIT OF THE DAY
"Give me a smart idiot over a stupid genius any day."

- Samuel Goldwyn
WEATHER IN A WORD
Perfect
THE NEW 60
A Jaffe Briefing Exclusive
by Andy Landorf & John Colquhoun