STATEWIDE - Perhaps it is time for the state to upgrade to Windows 95, as the second big computer crash in a week spelled disaster for the state's computer systems. The biggest hit came to the state's Motor Vehicle agencies, jamming efforts to renew driver's licenses, or for people to get titles or register vehicles. This mess somehow made the lines at the MVC even longer, the employees even surlier and customers wondering if the state can secure some surplus, 1990-era computers from North Korea, which probably could run more efficiently.
HOLMDEL - This could be the biggest case to ever appear before the Holmdel municipal judge, as all are awaiting the appearance at 10 a.m. of Thomas Tramaglini. And who the heck is this? Boy, we all have a short-term memory. Tramaglini is the now-famous Kenilworth schools superintendent who made international news for (allegedly) pooping on the Holmdel High School track each morning. In his short time in the media spotlight, Tramaglini has unwittingly created a new noun for the dictionary: a "pooperintendent." (Definition: A superintendent who publicly poops each morning.) He has received a generous paid leave of absence from his $147,504-a-year job, giving the rest of us a reason to publicly poop, as opposed to going to work.
OCEAN CITY - Is that a big smile on your face? Is that a skip in your step? Are you whistling and singing? Then you must be in Ocean City, which has been officially deemed the happiest seaside resort in the nation! That's because of the family-friendly boardwalk, the Victorian bungalows and the beautiful beach, obviously. Coastal Living is out with these rankings, with Ocean City thrashing other so-called happy places as Vero Beach, Fl., Bluffton, S.C. and Cape Charles, Va. These lame towns can't possibly compete for overall happiness with Ocean City. They try so hard. But, don't be down. There's always the 2019 rankings to strive for.
OCEANPORT - Another really happy place in New Jersey is Monmouth Park, where Gov. Phil Murphy and a gaggle of other politicians may appear at 10:30 a.m. Thursday to place the very first legal sports bets in the state. (Great timing, with the World Cup beginning that day.) Murphy signed the law yesterday, making everything nice and official. Bookies are certainly not happy, as racetracks, casinos and the internet will be getting in on the action. But, no worries, a few days in Ocean City can make anyone feel better.
STATEWIDE - Your local International House of Pancakes is no longer IHOP. It's now "IHOB," at least temporary, in a marketing strategy known as "spray and pray." The chain is heavily promoting its burgers, just like every other place on the planet, with the hopes that pancake lovers will return for lunch and dinner. To get everyone's attention to the non-news, IHOP's 1,800 diners are now temporarily known as IHOB. If this works, we suggest introducing lobster at "IHOL." Tuna noodle casserole at "IHOTNC?" Terducken at "IHOT?" Or maybe pasta at "IHOP?" Oh, whoops, never mind.
IN OTHER IMPORTANT NEWS


SOFIA, Bulgaria - You've heard about Penki the Bulgarian Cow, right? Of course you have, and so you are probably concerned that Bulgarian officials, under the law, must kill her. We're sure you know that Penka crossed European Union borders without the necessary paperwork, wandering into war-torn Serbia. Penka wandered back a couple of weeks later, which means immediate death. As everyone knows, a cow entering the European Union needs to have papers verifying good health. Penka's plight prompted protests and petitions. Even Paul McCartney signed it, as well as, most likely, you. The Bulgarian Food Safety Agency jumped into action, giving Penka a clean bill of health. And did you hear the latest moos? Penka will live!
THIS DAY IN HISTORY
It was on this day in 1973 that the Yankees swapped well-known wife swapper Mike Kekich for Lowell Palmer.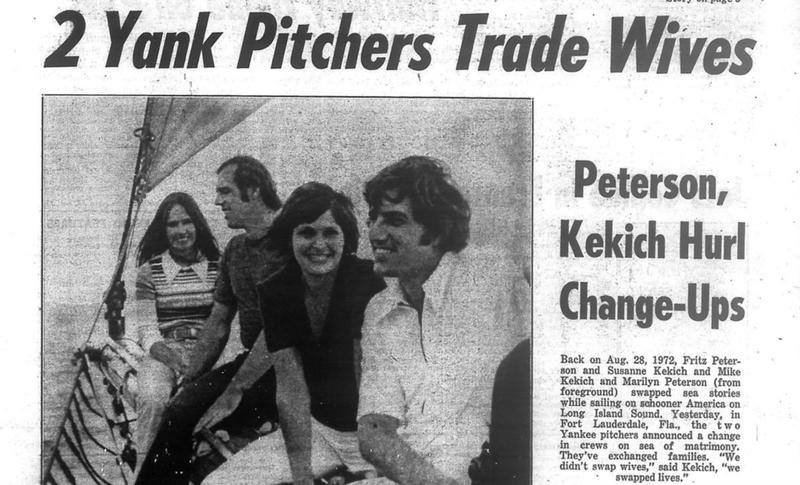 WORD OF THE DAY
Blamestorming - [BLEYM-stawr-ming] - noun
Definition: A discussion or meeting for the sole purpose of assigning blame
Example: If this IHOB gimmick doesn't work, expect plenty of blamestorming in the boardroom.
WEATHER IN A WORD
Groovy