OUR TAKE ON THE NEWS IN NEW JERSEY
STATEWIDE - This. Changes. Everything. Legal sports betting is finally taking its rightful place in New Jersey, with the U.S. Supreme Court throwing out this dumb federal ban that has lasted for more than 25 years and has cost New Jersey billions of dollars in wasted opportunity. Places like the Atlantic City casinos and the racetracks will suddenly get a business boost akin to three espresso shots dropped in a Red Bull, as New Jerseyans can finally forgo the neighborhood bookie to get some action. Sports betting is a $150 billion business annually, with only $4.5 billion of it done legally, gaming officials say. And that's why we will repeat: This. Changes. Everything.
WEST LONG BRANCH - So, what exactly changes? Places like Monmouth Park have already constructed a new sports book and will be ready to take bets in a couple of weeks, after the state Legislature speeds through a couple of laws to regulate. But very soon, dare we say in time for Memorial Day weekend, Monmouth Park will be exploding with all this new business. There will be the diehard sports fans, the bleary-eyed gamblers, the curiosity seekers and the bored kids nagging to go to the beach - all descending on West Long Branch and redefining Monmouth Park through the summer and deep into the NFL season.
STATEWIDE - As we are all esteemed legal scholars, let's give this SCOTUS decision a critical look. What does it really mean? Well, first, kudos to Trenton's own Justice Samuel Alito, who wrote the majority opinion. He's a conservative guy who could be opening the door for a liberal agenda, some say. It was argued the "Professional and Amateur Sports Protection Act" violates the 10th Amendment and could help liberals by shielding state experimentation from federal intrusion. Hot topics like marijuana legalization and the passage of so-called death and dignity laws could now be getting closer to reality. Our high-brow legal team also thinks this decision could prevent punishment against sanctuary cities for refusing to enforce federal immigration law. So, New Jersey gets to legalize sports betting and Gov. Phil Murphy has a new revenue source to fund his progressive agenda. Is anyone in the state happier this morning?
IN STORES - First, legalized sports betting and now "canned wine?" Damn, can this day get any better?! Sure, snooty sommeliers may cringe, but New Jersey now has its very own, easy-to-guzzle wine. Pop-top cans have been around forever, but William Heritage Winery in Mullica Hill figured it was about time for a homegrown dry rosé in 12.5-oz cans. Why? Well, um ... money, of course. Plus, winemaker Sean Comninos tells New Jersey Monthly that canned wine is easy to chill, easy to haul around in coolers and, perhaps, looks just like that soft drink that is usually on your desk at work. (Hmm.) This wine guy describes his canned dry rosé as "light, bright, has hints of strawberries and grapefruit," but no tinny aftertaste. (Again, hmm.) Finally, a way to shotgun wine, as we bet against the Jets.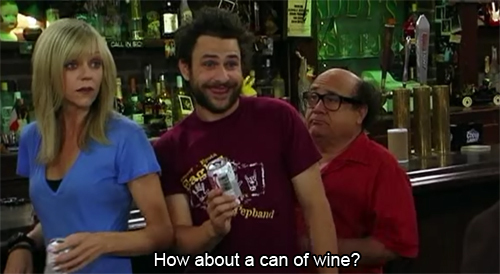 ON THE CAMPAIGN TRAIL - Social studies teachers trying to define the term "carpetbagger" now have the ideal example. Meet Eric Hafner, a 26-year-old ultra-liberal Democrat from Toms River. He has never been to Oregon, probably doesn't know anyone who lives there, yet is challenging the incumbent today in the 3rd Congressional District. All it cost was $100 and the ability to use the Internet to become a real candidate for Congress, representing a base of people who have zero clue that he exists on the planet. Haftner, who describes himself as a "Radical Socialist Intersectional Feminist," tells the Asbury Park Press that the good people of Portland have views that mirror his: legalizing drugs, supporting free public transportation and funding Medicare for all, regardless of age. It seems like a good time for Hafner to move west, the newspaper notes, as he has been living in hiding because of outstanding arrest warrants from Middletown and Freehold related to drugs and contempt of court. Bet Oregon voters have no idea. Or just don't care. Read his agenda here.
IN OTHER IMPORTANT NEWS
ST. PAUL, MI. - The science museum must be desperate for fresh exhibits, deciding to put a mummified monkey on display. This Curious George was recently found - quite curiously - lodged in air ducts at an old local department store. The Star Tribune says the store, once owned by Minnesota Gov. Mark Dayton's family, had a huge rainforest display back in the 1960s, complete with live monkeys and birds. The governor recalls one monkey escaped, never to be seen again. Can we assume... mystery solved?
THIS DAY IN HISTORY
It was this day in 1992 that the super discount chain Alexander's announced it was closing 11 stores, including some in New Jersey, prompting the question: Where else will we find bargain bins of $2.99 shoes?
WORD OF THE DAY
Nascent - [NAYSS-ənt] - adjective
Definition: Coming or having recently come into existence
Example: Now, who's ready to bet on the nascent Vegas Golden Knights? Read all about it!
WEATHER IN A WORD
Sticky