OUR TAKE ON THE NEWS IN NEW JERSEY
ATLANTIC CITY - Happy days are here again, as the state's once gasping gaming resort is expecting sports betting will rake in $150 million to $175 million a year in new, glorious profits - courtesy of your pals on the U.S. Supreme Court. Moreover, ecstatic Stockton University officials believe, this recharged gambling mecca will bring in a whole new generation of tourists who have zero interest in sitting in front of slot machines and watching old people waste their retirement savings, as they take hits from an oxygen tank. Rather, think new bars, new clubs, new retail, new restaurants, new shows and top talent giving Vegas a run for its money. Welcome Millennials. In case you are wondering how to get to this place known as Atlantic City, head to the expressway and look for the signs.
STATEWIDE - So, which vice will rake in more money for New Jersey, gambling or pot smoking? As places like West Long Branch and East Rutherford become more like Sodom and Gomorrah - with all these no-nos becoming legal - expect wheelbarrows of cash, NJ 101.5 reports. By far, sports gambling is the winner for New Jersey, with the potential of - get this - $26.6 billion in bets. Gulp. Meanwhile, marijuana sales would be just a relative pittance, of $300 million or so, in sales. The big question: How will all this cash affect the typical property taxpayer? Besides having a whole lot of fun, as we descend to the fifth level of hell for all our new "legal" misdeeds, it will be fascinating to see what drip-drips into the state treasury.
TRENTON - If we can sober up for a moment, and wipe some champagne off the keyboard, there is still a little issue worth discussing: the 2019 state budget. The budget deadline is looming, with June 30 fast approaching, and the spending plan is still up in the air. Robust tax collections for April - usually a big boon to magically fill in gaps - haven't materialized. So, we still have a governor pushing $1.5 million in new taxes, which also includes revenue for legalized marijuana, if that can happen. The big question: Is an intraparty budget battle looming between our Democratic governor and Democratic Legislature over all these proposed tax hikes?
SEASIDE HEIGHTS - Officials aren't in any rush to hop aboard a "trackless train" that entrepreneurs hope to have chugging along the boardwalk here this summer. This trackless train is really a souped-up vehicle pulling a few colorful passenger cars at a snail's pace. Nothing like the speedy, get-where-you-want-to-go trams on other boardwalks. Shorebeat says the out-of-towners behind the idea have likely never seen the busy, concession-lined boardwalk here, dotted with booths and kiosks. The borough attorney doesn't want local officials taken for a ride, warning there are legal, liability and logistical obstacles to weigh before they punch anybody's ticket.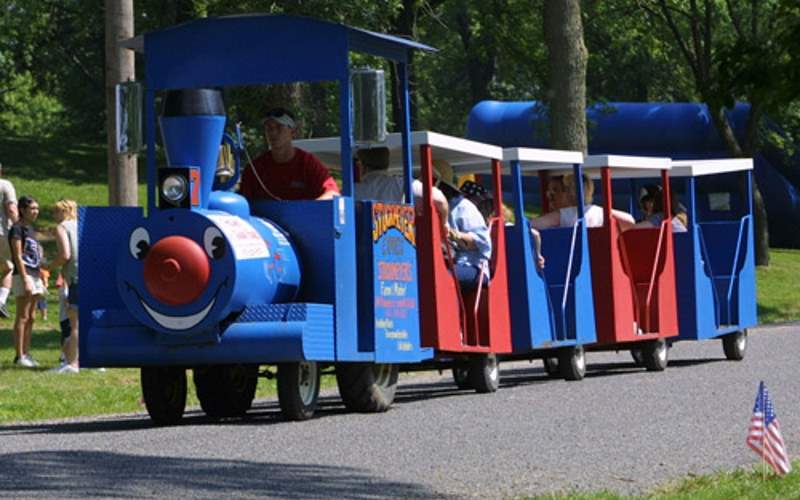 IN THE MEDIA


HAMILTON - Is Gov. Phil Murphy a funny guy? We will all find out tonight, during the annual Legislative Correspondents Club Show, courtesy of the New Jersey Press Association. For those unaware of this event, Statehouse reporters mock our state officials, who then provide some of their own zingers - all in good fun, and all. There's plenty of networking over an open bar, raising scholarship money for students blindly interested in a career in journalism, and seeing if Murphy has the stand-up skills of his predecessor, who would leave no one in the room unscathed. Murphy is vowing to only be "moderately funny," clearly under-selling.
IN OTHER IMPORTANT NEWS
STATEN ISLAND, NY - Argh! Ahoy, mateys, there's treasure buried in them backyards! Well, at least in one backyard. WCBS reports a couple discovered a buried safe containing $52,000 worth of property, including diamonds, gold, jade and wet cash. Blimey! The residents always figured this rusting hulk of metal jutting out from beneath some trees was just an old cable box. But then, when they were having some trees replaced, the treasure chest was dug up. An important clue: all the riches included an address of some local scallywags. So, the residents knocked on that door, said "Ahoy!" and quickly learned those residents had been burglarized in 2011. Yo Ho Ho! These urban pirates promptly returned the loot; no need here to hornswaggle.
THIS DAY IN HISTORY
And you think the water in your glass is old. But is it as old as the Canadian mine, discovered on this day in 2013, with water dating back 2.6 billion years?
WORD OF THE DAY
Aggress - [ə-GRESS] - verb
Definition: To act aggressively
Example: I plan to aggress my way to the front of the line when Monmouth Park opens for sports betting on Memorial Day weekend.
WEATHER IN A WORD
Gray