TRENTON - If, one day, New Jersey becomes a shining example for miraculously digging itself out of debt, perhaps historians will dig up this little story. Gov. Phil Murphy and the public sector labor unions seem to be on the same page - for this fleeting moment - to save $500 million in health care benefits from 800,000 current and retired teachers. Retired teachers will be moved to something called "Medicare Advantage," and there will be a new insurance plan that encourages in-network care, finally. Total tally in savings? $274 million for the upcoming year; $220 million in 2020. Now, let's focus on other public labor unions to gin that number up to $1 billion.
MARGATE - Is 'Lucy the Elephant' really packing her trunk to make room for an oceanfront boutique hotel? Maybe moving to Atlantic City? Plenty of rumors are swirling. It is true Lucy's 50-year-$1 lease is almost up. The "Save Lucy Committee" (which runs her) hasn't reached a new deal with city officials. True, the city is considering zoning changes along Atlantic Avenue, including land where Lucy stands. Yet, Mayor Mike Becker insists the attraction's suggested departure is "ridiculous," telling Philly.com that "Lucy is Margate," and moving a 65-foot-high wooden elephant, built in 1881, "was never discussed."
PISCATAWAY - A public works foreman is getting strong kudos for rescuing a woman trapped last Thursday in her partially submerged car. DWP Foreman Michael Mosier swam through shoulder-deep floodwaters on Possumtown Road to save the 50-year-old motorist trapped inside her car with water almost up to her neck. Mayor Brian Wahler tells the Home News Tribunethat the 30-year municipal employee demonstrated "courage and devotion to helping others," adding the woman is "alive today thanks to (Mosier's) quick thinking and valiant efforts." Sounds like a mayor's proclamation is in the works.
MONTGOMERY - There are plenty of questions this morning about the hiring practices at one bus company, which fired a school bus driver for getting lost on the first day of school with a busload of kindergarteners. The Courier News reports the driver spent an hour wandering around town in the unairconditioned bus, after leaving the Orchard Road School. It was then discovered that this driver - who does not exactly have a firm understanding of the English language - didn't complete a practice run of the route, violating protocol. School officials vow this won't happen again. Or, at least not in Montgomery.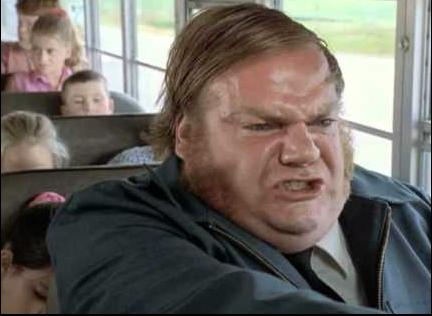 IN OTHER IMPORTANT NEWS
MONTGOMERY VILLAGE, Md. - There's hope one local woman doesn't become a school bus driver. She seems sure to tank her driving test, after she drove over the curb, crashed through a fence and landed in a swimming pool on Saturday. The Washington Post notes the student driver and her teacher were unharmed, though slightly wet, after ending up in the North Creek Community Center Pool, which, luckily, is already closed for the season. Rescuers founds the driver and teacher standing at the side of the pool, likely not discussing strategies for effective parallel parking.
HELL, MI - More devilish news from Hell: Heterosexuality got outlawed in this tiny, unincorporated Michigan village. Well, briefly. Comedian Elijah Daniel recently got sworn-in as Mayor of Hell - a job anybody with a spare $100 can get for a day - and his first order of business was to ban heterosexuals. "Growing up, I was taught homosexuals go to Hell," Daniel, 23, told the Huffington Post. "I'm just making Hell great again." Any of Hell's 72 'hetero inhabitants' were allowed to stay for a modest fee. And, Daniel says, one straight man is always welcome: "Donald Trump should go to Hell anytime."
THIS DAY IN HISTORY
The St. Louis Cardinals played so badly on this day in 1915 that we're still talking about it, as the Boston Braves easily won, 20-1.
WORD OF THE DAY
Lenitive - [LEN-ə-tiv] - adjective
Definition: Alleviating pain; soothing
Example: A pepperoni pizza no longer has a lenitive effect on my digestive system.
WEATHER IN A WORD
Tropical
THE NEW 60
A Jaffe Briefing exclusive
by Andy Landorf & John Colquhoun