ASBURY PARK - Remember when a balloon was your friend? You'd run, skip and hop with your faithful pal. Tee-hee. Well, now, that balloon is your arch-enemy and its must be exterminated, with all its cronies, to save the planet from clear annihilation. The war on the balloon is ravaging through New Jersey, with the Asbury Park Council poised to impose a $500 fine on anyone who dares to intentionally release a balloon within the city limits. Asbury Park joins the likes of Bradley Beach, Atlantic City and other shore towns in waging all-out war, desperate to keep plastics out of the water. Beware little balloon. Your days are numbered.
STATEWIDE - We're all having sex nine times less, per year, on average since the 1990s. And how the heck do we know that? Well, it's those darn, nosy pollsters, somehow magically able to extract such personal information. Yet, NJSpotlight reports, there's this national uptick in the amount of sexually transmitted diseases. We're talking big, glaring bumps in chlamydia, gonorrhea and syphilis. Rutgers experts - and there are apparently Rutgers experts about everything - think the higher STD rates (with less sex) are because of higher poverty and a lack of sex ed. A possible solution to this festering problem? Free condoms with every Netflix subscription.
SECAUCUS - It may have been like talking into the wind, as Gov. Phil Murphy and other well-intended honchos stood under a section of the New Jersey Turnpike yesterday and implored President Trump to provide the obvious funding so desperately needed for the Gateway Tunnel. Perhaps it was the roar of passing cars, or maybe the honking horns. But there was no doubt that Trump was tuning out this staged pep rally. The rumor is that Trump won't pony up the cash until New York Sen. Chuck Schumer supports U.S funding for the big, beautiful Mexican wall. Back in reality: there are 200,000 rail passengers each day that need that new tunnel, as we rely on woeful infrastructure constructed in 1910. Can we finally Make America Great Again?
OFF THE RAILS - In what may come as a terrific surprise, more of the "emergencies" that NJ Transit engineers faced this summer occurred on Mondays and Fridays, prompting them to unfortunately skip work and leave thousands of commuters stranded. The Wall Street Journal crunched some numbers, showing, on average, 23 engineers took an unplanned absence mid-week for such general excuses as illness or "family reasons." That average amazingly rose to 31 engineers on Mondays and Fridays, with a peak of 33 engineers suddenly ditching work on Saturdays for these, uh, emergencies.
WEST WINDSOR - There's no fear of flying for a hundred wannabe pilots who've hopped aboard Mercer County Community College's new aviation program, the only one of its kind in New Jersey. With the airline industry facing a commercial pilot shortage, the college is partnering with a flight school at Trenton-Mercer Airport to offer a mile-high education. The intensive 18-month program shaves 250 hours off the 1,500 hours required to earn a set of wings. One young aviatrix tells News12 NJ that you get airborne "right away, there's no simulator ... you start flying Day One." Tuition is reasonable, but peanuts cost extra.
IN OTHER IMPORTANT NEWS
ST. LOUIS - Think your house is cramped? At least you aren't living in a tiny apartment with your bathroom toilet jammed next to the kitchen sink. (Or so we think.) Someone actually rented this place in St. Louis' Central West End, with a toilet, bathtub, oven and sink all mashed into one small room. The 200-square-foot apartment goes for $525 a month in an old apartment house that once housed 12 luxury apartments. But then the Depression hit, and it was all carved into 50 separate units, with this studio being the absolute smallest of the small. The listing agent is quick to note the place does have big windows, always lovely when you are sitting on the can while basting a turkey.
THIS DAY IN HISTORY
It was this day in 1977 that the Cleveland Indians staged their very first "Beat the Yankees" Hankee Night.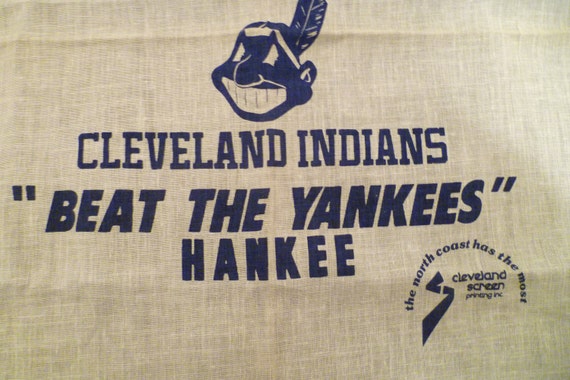 WORD OF THE DAY
Buttonhole - [BUT-ən-hohl] - verb
Definition: To detain in conversation by or as if by holding on to the outer garment.
Example: I buttonholed the guy to let me borrow his Yankee Hankee.
WEATHER IN A WORD
Stuffy
THE NEW 60
A Jaffe Briefing exclusive
by Andy Landorf & John Colquhoun
Click here for a story about "The New 60" in the New York Post!