OUR TAKE ON THE NEWS IN NEW JERSEY
MENDHAM - How long are New Jersey taxpayers going to pay for Chris Christie? WNYC reports there is a $250,000 line item in the state budget for "gubunatorial transition." Christie still has expenses: the staffer to help him with his waning responsibilities, rented office space near his home and that darn $85,000 portrait, the highest price ever for a gubernatorial painting. Christie also still has the State Police escort for his travels around the state. It is not quite clear what Christie and his staffer are doing with this taxpayer-funded office, or what exactly is the volume of state business, but we're sure Christie would say it's all none of our damn business.
TENAFLY - Unclear who is providing PR counsel to the now-disgraced, former Port Authority commissioner who famously yelled at the Tenafly cops who pulled over a car that contained her daughter. If you live under a rock, you already know this national story and saw the dash cam video from March 31. No need to recap. But a prepared statement from the former commissioner certainly raised a lot of eyebrows, as she is now scolding the police for her bad behavior, in which she flashed her Port Authority badge, talked about the 4,000 cops she allegedly oversaw and ordered officers to shut the duck up. She claims, in a statement, that she didn't ask for special treatment. (C'mon...) and then went as far as suggesting that Tenafly cops "review best practices with respect to tone and de-escalation, so that incidents like this do not recur." Thank you, former commissioner, for your guidance and shining example.
TRENTON - All writers know this: A misplaced comma can spellwidespread Armageddon. (We might be overstating.) But read about how one lucky Housing Authority worker got a whopping $711,000 paycheck - rather than $711 - deposited directly to his bank account. The Trentonian says Housing Authority staff took several days to notice the boo-boo, but couldn't quickly recoup the money because the employee was on vacation. (Just guessing: the Caymans?) So far, the worker has handed back most of the money. The Mercer County prosecutor is now on the case to ensure every penny gets returned. And, the payroll clerk whose fingers went wonky at her keyboard got suspended for five days. The moral: Punctuation counts. Period.
HOBOKEN - It's a move that would make the father of the modern toilet - Thomas Crapper - proud. Hoboken Mayor Ravi Bhalla is asking the city council to make all public bathrooms, including those in private establishments, accessible to all gender identities. Joining the "Sixth Borough" exurb of Jersey City, Hoboken would allow residents to use whatever darn restroom they deem appropriate. NPR reports that Bhalla called for the protection of the "civil rights and dignity of our transgender, gender non-binary, and queer residents and visitors." But this is just the start, the mayor vowed, promising to introduce more progressive and inclusive policies to protect all residents. Residents are sure to be grateful for the gesture, as sweet relief often comes in the form of whichever line is the shortest. Just remember to put the seat down.
MORRISTOWN - Here's some more news about that now-famous, money-losing fundraiser Morris County Republicans hosted at Trump National Golf Club. Big-ticket donors and VIP guests at the glitzy Feb. 17 gala were apparently misled to believe the big guy might make a surprise appearance at his golf course. The New Jersey Globe says organizers went as far as asking attendees for their Social Security numbers in advance, suggesting a probable presidential pop-in. Yet Trump spent that well-publicized President's Day weekend in Mar-a-Lago, binge-watching cable news and firing off a barrage of furious tweets. Meanwhile, Morris County Republicans are scrounging around for an extra $6,000 to pay for the top-shelf venue and entertainment. Maybe Trump gives his fellow Republicans a break?


IN OTHER IMPORTANT NEWS
BUFFALO, NY - Museum sleuths have cracked an egg-stremely big case. Staff at the Museum of Science have been mystified by a foot-tall, three-pound egg left forgotten in a storage drawer since the 1940s. Was it real? A replica? A tenacious zoologist scoured archives for weeks; this egghead resurfacing with proof that the egg is a very real, very rare "elephant-bird egg." (No yoke!) The Buffalo News says curators are simply egg-static! Elephant-birds were enormous, flightless, ostrich-like creatures that inhabited Madagascar before going extinct. Few of their fossilized eggs still exist. Museum staff is now scrambling to whip up a special eggs-hibit. It's clearly sunny-side up in Buffalo.
THIS DAY IN HISTORY
TV viewers lost three classics on this day in 1992, when both "Growing Pains," "MacGyver" and "Who's the Boss" call it quits on ABC. Viewers will learn the answers to these pressing questions:
Will Mom's move to D.C. destroy the Seaver family?
Does MacGyver have a kid?
Will Tony and Angela finally make out?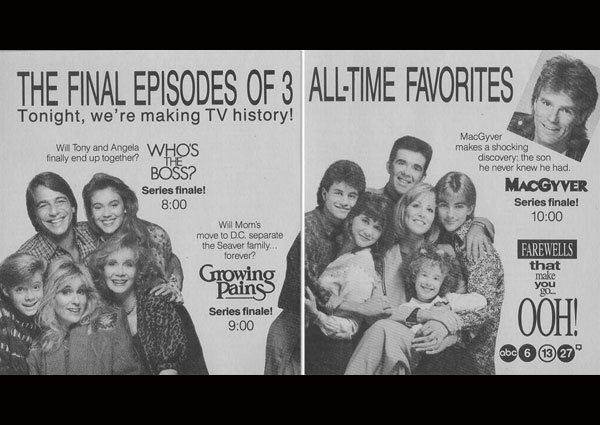 WORD OF THE DAY
Mollycoddle - [MAHL-ee-kah-dəl] - verb
Definition: To treat with an excessive or absurd degree of indulgence or attention
Example: Stop mollycoddling Mike! He can pick out his own ugly 1980s sweater.
WEATHER IN A WORD
Pretty