STATEWIDE - The kiddies were sooo close to having a mandatory 20-minute recess this school year. But as NJSpotlight reports, it looks like this new initiative is getting bounced until next school year. A law was signed this summer, after eight years of crazy debate, analysis and a governor's veto, that would require all public elementary schools to give the youngsters at least a 20-minute break each day, as the teachers run to the break room for a smoke. But then the state education department now says this new requirement doesn't begin until the 2019-2020 district, after districts have already penciled in 20 minutes of fun and frolic. Back to your desks, children. NOW.
ATLANTIC CITY - As if we need another sign the troubled Miss America Organization is, well, troubled, now it's own attorneys are suing to recoup $98,200 in long overdue fees. Nothing to smile and wave about here, as the Philadelphia firm of Fox Rothschild's five-page lawsuit claims the pageant is long on promises and short on cash. No one from Miss America would talk to the Press of Atlantic City, but this is the ideal quandary to quiz pageant contestants on next year: "So, Miss New Jersey, if you were named Miss America, how would you pay our bills?"
STATEWIDE - "Unsettled"? "Churning"? The newest "Cat 5" hurricane that may slam into the United States over the next few days is the weatherman's dream. That's because we have no clue how strong it will be and where it will hit. That means many, many, many more people could potentially (and possibly) be impacted by heavy rains and strong winds. And that means much more glorious viewership. So as this "unsettled" hurricane keeps "churning" toward the Carolinas, take heed, be worried, buy gallons of milk and - for God's sake - don't change that channel. Your life may depend on it.
WALL - If you ever tried to enter the "Shake Shack" in the NYC theater district, the line is always out the door. But, very soon, when you stop to pee on the Garden State Parkway, you'll be surprised to see one of these overly-popular burger joints at your local rest stop. That's right. When the Monmouth rest area in Wall re-opens hopefully by Memorial Day next year, it will actually have offerings other than a 1970s-era Roy Rogers. That super trendy Shake Shack will anchor other mainstays, like a Starbucks and a Chick-fil-A, NJ.com reports. Finally, very soon, there will be a second reason to stop at a Jersey rest area.
IN OTHER IMPORTANT NEWS


SANDSON, Va. - Just in time for Back to School, a local homeowner has erected an electrified fence to keep those damn kids off his lawn. Yup, this guy just happens to live next to a bus stop and is sick and tired of all those annoying youngsters standing on his beloved green grass. "They don't respect other people's land," the man complained to WTVR News. "I pick up trash every day." The man claims he has no choice because the kids didn't respond to his "No Trespassing" signs, finger-waving and menacing stares. After outraged parents called the Henrico County Police Department, it is learned the fence is on county property, so he has to move it back, maybe closer to his rifle tower and guard dogs.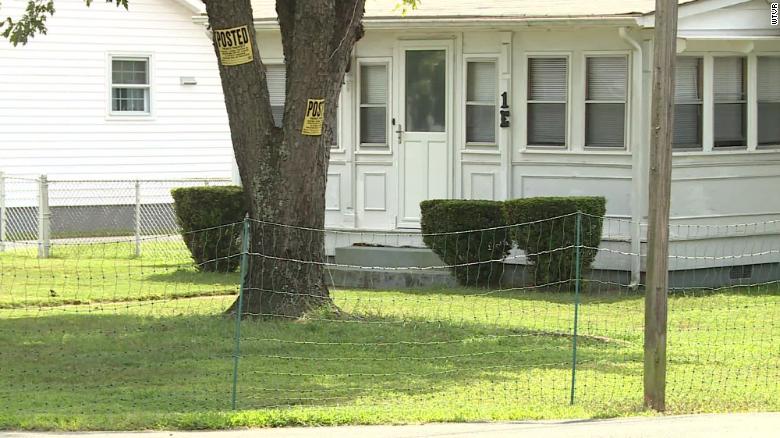 MINNEAPOLIS - Dorothy's "ruby red slippers" are finally home, ending a 13-year mystery of their disappearance that even "The Wizard of Oz" couldn't solve. The sequin-adorned slippers vanished during a 2005 burglary at the Judy Garland Museum in her hometown, Grand Rapids, MN. Dead-end leads and false sightings stymied Minnesota cops and the FBI's Art Theft Division for years. Then, an informant's 2017 tip sent the feds down yellow brick roads in Chicago, Atlanta and Miami, only to recently find the million-dollar movie props during a Minneapolis undercover sting. The FBI is still pursuing the thieves. We can confirm, however, that Wicked Witch of the West is no longer a suspect.
THIS DAY IN HISTORY
Americans got its first look at the lazy private, Beetle Bailey, on this day in 1950. And, yep, he is still a private. Damn that Sarge.
WORD OF THE DAY
Periphrasis - [pə-RIF-ə-sis] - verb
Definition: Use of longer phrasing in place of a possible shorter form of expression
Example: There's plenty of asinine periphrasis in my kid's English journal. For example: "The accelerant enzymes her image infuses in Steve create a chemical cocktail he can only counter with self-preservational condescension."
WEATHER IN A WORD
Unsettled
THE NEW 60
A Jaffe Briefing exclusive
by Andy Landorf & John Colquhoun