TRENTON - So, if New Jersey lights up for legal weed, what will it all mean? New Jersey lawmakers have emerged from the fog with a proposed bill - not yet fully baked - suggesting the lowest marijuana taxes in the nation, at just 10 percent (for starters.) There would be set-asides for minorities, small businesses and women to get retail licenses, as well as preferences given to high-unemployment areas. There would also be businesses that can have "consumption spaces" - akin to smoking lounges - to enjoy the product, as well as home delivery service. And, no, you can't grow your own. The particulars may all be hashed out beginning as early as Sept. 27. And it all makes sense, yet one nagging, prevailing question remains: How does this legislation ensure we are not putting more stoners on our busy highways?
ATLANTIC CITY - Things may be taking off at Bader Field as Stockton University says it could become home to a $41 million Marine and Environmental Science Center. A $100,000 feasibility study should say for sure. The 140-acre municipal airport has been a white elephant for the city since it closed in 2006. Stockton's proposed environmental center would use only 15 acres and replace its Port Republic science center, built in the early 1910s. Mayor Frank Gilliam tells the Press of Atlantic City that the project sounds promising as the city aims at becoming "a hub of innovation." And not just with the next generation of slot machines.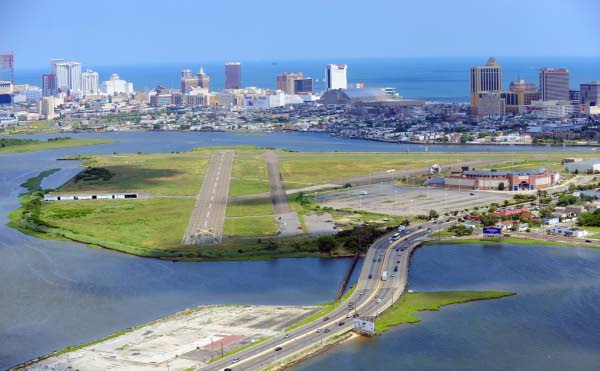 MULLICA TWP. - See ya' later alligator... much later. Police are warning people in this sprawling Atlantic County town to keep small, tasty pets indoors (and, maybe, watch their toes) after a three-to-four-foot gator was seen wandering around the Devonshire neighborhood. Police in Old Bridge captured a smaller alligator at Duhernal Lake just last week after it surprised a dog walker. A state DEP official tells NJ 101.5 not to attempt to bring these gators home as household pets as they are (a) exotic species and (b) think your arm would make a fine breakfast.
MADISON - You can just assume the good people of Madison are absolutely thrilled to welcome "The Snooki Shop" to their downtown. It will be owned by none other than the "Jersey Shore" character, hoping that all of greater Madison will jump for the opportunity to own Snooki-wear. The mayor has on a good face, despite some social media opposition form the local high-brows, saying he actually welcomes Snooki to bustling downtown Madison when her clothing store opens. So, get ready for plenty of "Snookinis" in the window - that's her branded high-waisted bikini. And, maybe, as Snooki lives in neighboring Florham Park, she will be there to sell you one herself. That is, if you are oh-so-lucky.


EDISON - The town was going to the cats yesterday, with a curious kitty wedging itself inside a light stanchion at an electrician's storage yard. Firefighters valiantly tried to free the frightened feline from the narrow steel pipe for 90 minutes, even greasing the inside with soapy water-and-oil in hopes the cat could slip out. No dice. Instead, the Home News Tribune says firemen had to cut apart the 20-foot stanchion and transport a two-foot section containing the cat to Iselin Animal Hospital, where staff sedated and freed it. The cat was resting comfortably overnight with some nip and seems purrrfectly fine.
IN OTHER IMPORTANT NEWS
WASHINGTON DC - Members of Congress often fight like trapped cats, but Democrats and Republicans swiftly agree on one thing: People should never eat Fluffy and Fido. Hard to swallow that we need a federal law banning such dishes as German Shepherd's Pie or Kitty Quesadillas, but only six states (including New Jersey, thank goodness) outlaw eating our two most beloved pets. The unanimously approved House measure sets $5,000 fine for anyone who kills, eats, buys, sells or donates a dog or cat for human consumption. Undoubtedly, the Senate will do the same. Canaries, goldfish and rabbits remain fair game.
THIS DAY IN HISTORY
It was this day in 2011 that the U.S. finally ended its controversial "Don't Ask, Don't Tell" military policy, allowing soldiers to actually mention their sexual orientation. Great. And now back to the War on Terror.
WORD OF THE DAY
Melancholia - [mel-ən-KOH-lee-ə] - noun
Definition: A mental condition and especially a manic-depressive condition characterized by extreme depression, bodily complaints, and often hallucinations and delusions
Example: As I look at my four tickets for the Rutgers football game this Saturday against Buffalo, I struggle to hold back the melancholia.
WEATHER IN A WORD
Cooling
THE NEW 60
A Jaffe Briefing exclusive
by Andy Landorf & John Colquhoun