WASHINGTON, D.C. – U.S. Rep. Leonard Lance, R-07, reacted Saturday night to the sudden death of U.S. Supreme Court Associate Justice Antonin Scalia, 79, who reportedly died in his sleep during a visit to Texas.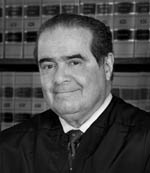 "Justice Scalia was a great patriot and dedicated public servant," Lance said in a statement released Saturday night. "He was a son of New Jersey. Born in Trenton, he would go on to serve the United States for 30 years with great distinction on the Supreme Court. His intellect, wisdom and strict defense of our Nation's Constitution will be his lasting legacy."
Scalia was born in Trenton on March 11, 1936, according to his biography on the U.S. Supreme Court website, before moving to Brooklyn, New York, with his family.
Lance joined fellow Republicans and Democrats alike, including President Barack Obama, in honoring the highly conservative justice with the longest tenure on the present court, almost 30 years.
"Justice Scalia dedicated his life to the cornerstone of our democracy: the rule of law," Obama said during a televised statement. "Tonight, we honor his extraordinary service to our nation and remember one of the towering legal figures of our time."
According to his biography, Scalia married Maureen McCarthy and had nine children and more than 20 grandchildren.


He graduated from Georgetown University and the University of Fribourg, Switzerland, and his was awarded an LL.B. from Harvard Law School, and was a Sheldon Fellow of Harvard University from 1960–1961, according to the biography.
After a long career practicing and teaching law and serving as a federal judge, President Ronald Reagan nominated him as an Associate Justice of the Supreme Court, and he took his seat Sept. 26, 1986.
Known for his strict interpretation of the U.S. Constitution, Scalia said in a 2012 interview on CNN that many of his opinions on issues like abortion and the death penalty were not so much reflections on his personal or religious values, but rather that they should be decided by the states in a democracy and that the court should not "take away democratic choice."
In the interview, he said the U.S. Constitution leaves such matters up to the people in the various states and, except where specifically enumerated in the Bill of Rights, the federal government should not take away those choices from the people of the individual states.
He said that states could simply amend their own laws to carve out specific exceptions and regulations for such matters rather than relying on the U.S. Supreme Court to decide them.
As the nation paused to honor Scalia and his service to the country, the timing of his passing right before the election of a new president is already generating controversy about a potential replacement.
In his statement, Obama promised to uphold his "Constitutional duty" to nominate a replacement "in due time," and called on the Republican controlled U.S. Senate to give that nominee a "fair hearing" and "timely vote."
Senate Majority Leader Sen. Mitch McConnell, R-KY, however, issued a statement calling on Obama to wait until the election in order that the people "have a voice" in determining who that nominee could be, conservative or liberal.
With Scalia gone, the present makeup of the court is split 4-4 and the ideology of a potential replacement could shift the highest court in the land in either direction.