WATCHUNG, NJ - The 29th Annual Tree of Lights once again lit up the Village Green on Saturday, Dec. 7. This year's Tree of Lights is dedicated in honor of the active members of the Fire Department and Rescue Squad who have achieved the status of "Life Member" by serving their respective organizations for a designated period of time. They are all current members that have actively participated in and dedicated over 15 years of service. ( see Lysandra Plotkin, President Watchung Rescue Squad dedication video here)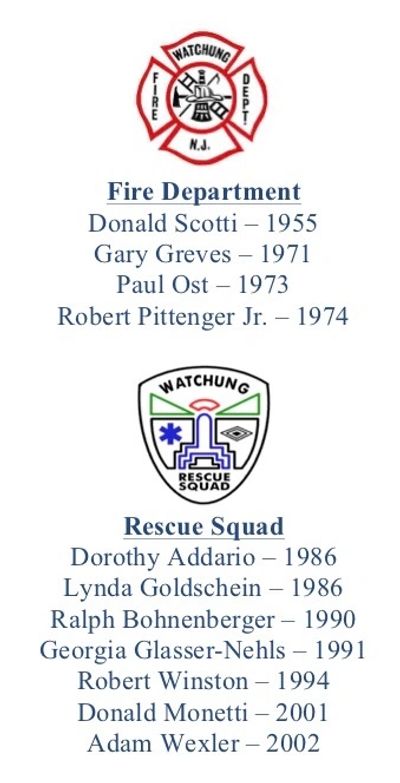 Watchung Mayor Keith Balla addressed the crowd and counted down to the lighting of the tree.( see Mayor Balla here) And (See tree lit here)
The Rescue Squad illuminates the holiday tree, and thanks to Garden State Fireworks, the skies were lit with a spectacular fireworks show. (See fireworks here)
"It is increasingly difficult today to dedicate time and regularly commit to volunteering, but each of these individuals have gone above and beyond throughout the years. They have all held multiple leadership positions and now serve as role models for their organization's new leadership and members. They have families and regular jobs, but actively work to balance their home lives with donating time to serving their community and helping others. During their 15 or more years of service, they were called away during family meals or awoken in the middle of the night to respond to emergency calls and to help those in need. Such Life Members are an inspiration to current members and an aspiration to future members and to all residents of Watchung. They are your neighbors, your friends, your first responders, and they truly deserve recognition for their efforts. It is with great honor that we dedicate this year's Tree of Lights to these eleven outstanding individuals."
You can still be part of the celebration by placing a red light on the tree in honor of or white light in remembrance of a person, family, friend and others.
The names of honorees and remembrances will be posted on the illuminated display on the Village Green as well as on the Rescue Squad's website. The display and the website will be continually updated throughout the holiday season. The dedications can be seen below.
Your contribution to the Tree of Lights is not only a symbol of your feelings of gratitude and love, but also serves to help the Watchung Volunteer Rescue Squad with major endeavors.
To place a light on the tree, please complete the Dedication Order Form and mail it along with your tax-deductible donation of $50.00 per light in the envelope provided.


2019 HONOREES AND REMEMBRANCES