TRENTON, NJ -- Gov. Phil Murphy cited significant drop in daily deaths, cases, hospitalizations, ICU and ventilator patients, at his daily press conference in Trenton on Wednesday .
According to the Governor:
New hospitalizations are down two-thirds from the peak.
Total hospitalizations are down nearly half since the peak.
The numbers of patients in ICU and on ventilators are both down significantly.
Positive cases are down 70 percent.
Deaths have decreased by more than one-third from the peak
Murphy said the trends are "headed in the right direction."
"Let's not forget where we were only six weeks ago on April 6, when we first shared our worst-case projections. We were preparing, it's hard to almost believe this now, for upwards of 36,000 hospitalizations with 9,000 New Jerseyans in ICUs and 7,500 of them connected to ventilators," the governor said.
"Because of your hard work, everybody, (we) never really came close... and the data we have seen gives us confidence that we can begin the careful and responsible restart of our economy, to get people back to work and to begin to set the stage for the steps to come," Murphy said. "However, sadly, we know there are those who will not join us for our road back. Today, we report another 197 blessed lost souls from COVID-19 complications in our New Jersey family. Our statewide total now stands at 9,702 lives lost."
"Statistics have shown that social distancing has helped us slow the spread of the virus in our state. We are all eager to resume our normal activities, but we must continue to practice the precautionary measures that have been protecting the health of our residents," Health Commissioner Judy Persichilli said. "Please continue to stay at least six feet from others. Do not gather in groups. Stay away from crowded places and limit close contact with others outside your household in indoor or outdoor spaces."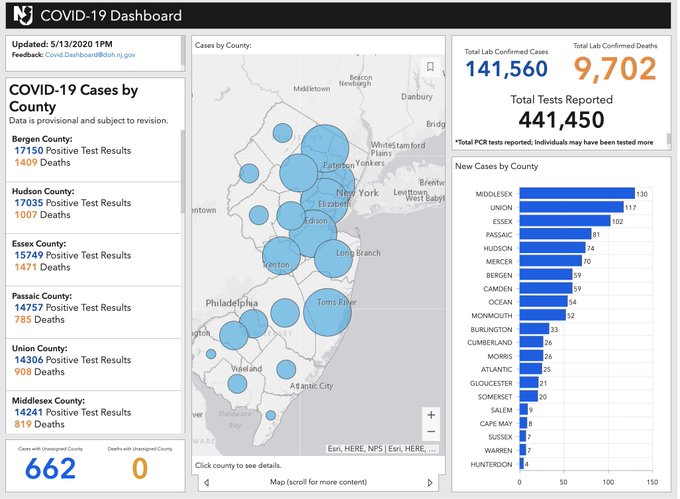 Total COVID-19 Cases in NJ (by County): 141,560
Atlantic: 1,584 • Bergen: 17,150 • Burlington: 3,726 • Camden: 5,099 • Cape May: 479 • Cumberland: 1,447 • Essex: 15,749 • Gloucester: 1,728 • Hudson: 17,035• Hunterdon: 732 • Mercer: 5,499 • Middlesex: 14,241 • Monmouth: 7,090 • Morris: 5,926 • Ocean: 7,688 • Passaic: 14,757 • Salem: 428 • Somerset: 4,127 • Sussex: 1,041 • Union: 14,306 • Warren: 1,066 • Under Investigation: 662
Total COVID-19 Deaths in NJ (by County): 9,702
Atlantic: 88 • Bergen: 1,409 • Burlington: 214 • Camden: 246 • Cape May: 37 • Cumberland: 43 • Essex: 1,471 • Gloucester: 92 • Hudson: 1,007 • Hunterdon: 47 • Mercer: 360 • Middlesex: 819 • Monmouth: 466 • Morris: 531 • Ocean: 571 • Passaic: 785 • Salem: 18 • Somerset: 340 • Sussex: 136 • Union: 908 • Warren: 114